Temple Bloom 3 Wick Soy Wax Scented Candle
Pick Any 2 & Get 50% Off
Temple Bloom invokes the beautiful scents around temples. With its blend of notes like eucalyptus, basil, jasmine, it is perfect for lighting in prayer halls, during festival gatherings. Almost all the notes used are associated with sacred spaces and are commonly used in rituals. Combined with the sweet, creamy scent of coconut, the overall aroma is uniquely pleasant and nostalgic.
Top notes: Green, Mint, Eucalyptus
Middle notes: Floral, Jasmine, Coconut, Banana, Basil
Bottom notes: Woody, Musky, Camphoraceous
EKAM's range of 3 Wick Scented Candles have been fabricated with soy wax, a green alternative to paraffin wax. Each of the candles come in jars covered extensively with the motif of the ambience the candle is trying to create. This makes them easier to match with the rooms or your own personality. They make great gifts presents for birthdays, anniversaries, parties, etc.
Poured in our factory in Mangalore, India, our unique 3 Wick Scented Candles are made from premium quality soy wax and lead-free wick, having a burn time of 30 hours each
Net weight: 256 g
Gross weight: 655 g
Burn time: 30 h
Dimension: 8 x 10.5 cm
MRP (Incl. of all taxes): ₹800
Mfg. date: June-2021
Best before: 24 months
Contains: 1 N of scented candle
Country of Origin: India
Manufactured by: Primacy Industries Ltd., Baikampady Industrial Area, Mangalore, Karnataka - 575011
Marketed by: Aromee Brands Pvt. Ltd., 3rd Floor, 401, Sairam Central Mall, Syndicate Circle, Anantha Nagar 1st Stage, Manipal, Udupi, Karnataka – 576104
Remove the lid from the jar before lighting the candle. Do not place the lid back on while the candle is burning. Light all 3 wicks at the same time for maximum aroma.
The first time you use the candle, burn for at least 3-4 hours. Till a small pool of wax reaches the candle edges. Prevents uneven burn, tongue flick, tunneling, spillage etc.
From second usage onwards, trim the wick a little before you light the candle. A pair of scissors will do. Prevents wick folding on itself, flame dying out, mushrooming etc.
Do not light candle where there is air blowing, or near combustibles.
Aromee Brands Pvt. Ltd.
D.No: 6-234/2, Second Floor, Plot No: 7D, Baikampady Industrial Area, Mangalore, Karnataka – 575011
Phone: +91-8867915084 / +91-6366226493
(Timings: 9:00 AM to 5:30 PM | Mon – Sat, excluding national/ public holidays)
E-mail: cs@ekamonline.com
WHAT WE SWEAR BY
100% lead-free wicks, imported from Germany & the US
Fragrances conform to IFRA (International Fragrance Association) standards
All Candles adhere to International ASTM (American Society for Testing and Materials) Quality Standards
Each candle uses paraffin & vegetable-based waxes of the highest quality
Colours used are UV protected, imported from Germany
Customer Reviews
Write a Review
Ask a Question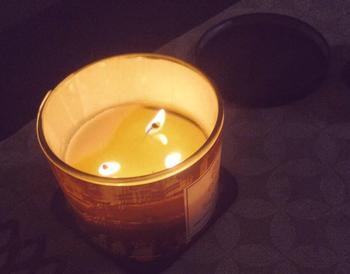 08/03/2022
Just as the name implies
Fragrance of this candle gives you the feel of being inside a temple. Totally divine and calming.
Shravz
Vijayawada, Andhra Pradesh, India
10/02/2022
Best scent for a spiritual morning routine
The fragrance is honestly heavenly and it's very strong with a good throw. The base note of camphor and sandalwood will set the mood for morning yoga, meditation and tarot reading sessions. The perfect spiritual scent. Works amazing in spacious rooms but in small rooms with closed doors and windows, it might be too strong if you burn it for more than 40 mins at a stretch.
Sohini
Kolkata, West Bengal, India
22/01/2022
Divine
The fragrance of this particular candle temple bloom is soo so calming to have around. It smells just like a temple. It has a subtle smell and not too strong which I love
Lavi B.
Bengaluru, Karnataka, India
17/01/2022
Loved the Aroma, it sooo relaxing & therapeutic
An amazing fragrance that lingers for a long time even after it has been blown off. It fills all the room with its soothing aroma. Loving it. Looks good on my tv table. Sturdy packaging and looks very classy. If you are looking for a good option in candles then you must give this one a try.
Piu G.
Kolkata, West Bengal, India
03/01/2022
Soothing and calming scent flavour
I have a heart for anything woody, green, and mix of floral. Temple Bloom scent candle is one of my all-time favorites, in addition to Ocean Dreams. The strong camphoraceous at the end change the whole mood. I burned it in the living room, and the candle scent traveled to the entire home. I highly recommend it!
Shweta L.
Ahmedabad, Gujarat, India
15/12/2021
It's soft and sweet
The three wick candle is a perfect add on to your space, temple bloom has a sweet smell to it and a very know essence quite similar to any temple one visits in local. The package was well received without any damage.
Kriti
Kolkata, West Bengal, India
07/12/2021
Amazing
Best dupe of the expensive bbw candles
Ishani J.
Navi Mumbai, Maharashtra, India