Sweet Pea Sensation 3 Wick Soy Wax Scented Candle
Light our sweet pea candle when you wish to take in the aroma of a small cottage by a stream. Along with its sweet and floral tones, soft fruity scents pop up along the way. Like mild fruits dipped in cold water. It has a unique blend of citrusy, minty, floral scents with a solid base of musk, Oudh-like and clear-water scents.
Top notes: Green, Citrus, Mint, Fresh, Lily, Spicy
Middle notes: Fruity, Melon, Sweet Floral, Jasmine, Violet
Base notes: Balsamic, Woody, Oriental, Cedarwood, Musk, Ocean, Vanilla.
EKAM range of 3 wick scented candles have been fabricated with soy wax, a green alternative to paraffin wax. Each of the candles come in jars covered extensively with the motif of the ambience the candle is trying to create. This makes them easier to match with the rooms or your own personality. They make great gifts presents for birthdays, anniversaries, parties, etc.
Poured in our factory in Mangalore, India, our unique 3 Wick Scented Candles are made from premium quality soy wax and lead-free wick, having a burn time of 30 hours each.
Net weight: 256 g
Gross weight: 655 g
Burn time: 30 h
Dimension: 8 x 10.5 cm
MRP (Incl. of all taxes): ₹800
Mfg. date: June-2021
Best before: 24 months
Contains: 1 N of scented candle
Country of Origin: India
Manufactured by: Primacy Industries Ltd., Baikampady Industrial Area, Mangalore, Karnataka - 575011
Marketed by: Aromee Brands Pvt. Ltd., 3rd Floor, 401, Sairam Central Mall, Syndicate Circle, Anantha Nagar 1st Stage, Manipal, Udupi, Karnataka – 576104
Remove the lid from the jar before lighting the candle. Do not place the lid back on while the candle is burning. Light all 3 wicks at the same time for maximum aroma.
The first time you use the candle, burn for at least 3-4 hours. Till a small pool of wax reaches the candle edges. Prevents uneven burn, tongue flick, tunneling, spillage etc.
From second usage onwards, trim the wick a little before you light the candle. A pair of scissors will do. Prevents wick folding on itself, flame dying out, mushrooming etc.
Do not light candle where there is air blowing, or near combustibles.
Aromee Brands Pvt. Ltd.
D.No: 6-234/2, Second Floor, Plot No: 7D, Baikampady Industrial Area, Mangalore, Karnataka – 575011
Phone: +91-8867915084 / +91-6366226493
(Timings: 9:00 AM to 5:30 PM | Mon – Sat, excluding national/ public holidays)
E-mail: cs@ekamonline.com
WHAT WE SWEAR BY
100% lead-free wicks, imported from Germany & the US
Fragrances conform to IFRA (International Fragrance Association) standards
All Candles adhere to International ASTM (American Society for Testing and Materials) Quality Standards
Each candle uses paraffin & vegetable-based waxes of the highest quality
Colours used are UV protected, imported from Germany
Customer Reviews
Write a Review
Ask a Question
18/05/2022
I recommend this product
Calming
I have struggled with sleep for a while but I recently found out that when I use good scented candles, it helps me. I tend to get irritated with candle tunneling and soot but from the moment I used the sweet pea candle, within 15-20 mins, the candle burned evenly. The aroma filled up my entire room and I am definitely sleeping a lot better. I am looking forward to trying the other fragrances.
01/04/2022
PERFECT!
Writing the review after using it for few weeks- this smells amazing. EKAM never disappoints. This candle is every girls bestfriend! so perfect :)
Shweta K.
Hyderabad, Telangana, India
25/03/2022
Super satisfied
I bought 4 candles in one go that too for the first time from Elam and I'm highly satisfied with quality, pricing and packaging. Earlier I was thinking tk but it from bath and body works but not now because Ekam is best reasonable solution .
Vatsalay S.
Ahmedabad, Gujarat, India
08/03/2022
Unique floral soothing fragrance
The floral fragrance is really unique; I can bet it is nothing like you have smelled before. It starts filling the room with mild, sweet aroma within few minutes of burning and gives such a soothing vibe. A must buy!
Samik S.
Kolkata, West Bengal, India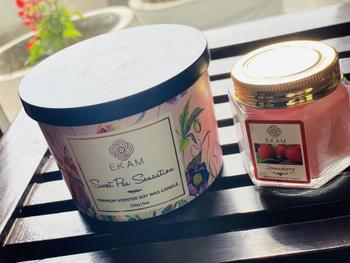 04/03/2022
Amazing mild fragrance
It is very sweet fragrance and can also be used for home decor. Amazing one. ✨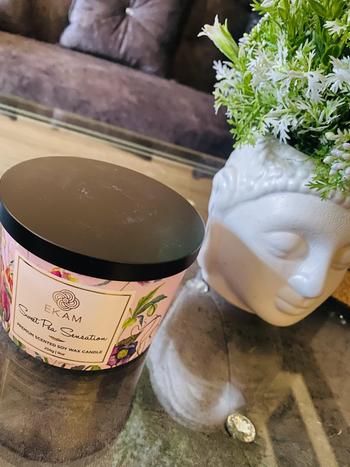 22/02/2022
Best floral fragrance i have ever bought ❤️✨
It is very floral and calming fragrance. It is best. Whenever i use it, it refreshes my mood and make me happy.
20/01/2022
Sweetest fragrance!! Pleasantly surprised by the fragrance of this particular candle. Highly recommend this one.
Shweta K.
Hyderabad, Telangana, India
19/01/2022
Amazing candle! The throw is top class. One small issue is that of tunnelling.
Shatabdi N.
Chennai, Tamil Nadu, India