Peaceful Vetiver Fragrance Oil, 10ml
Our Peaceful Vetiver fragrance oil has a beautiful way of taking over your senses and calming you down. Its fresh, woody and earthy notes will soothe you and ground your senses and help you to reach a place of quiet and contentment during your prayers and meditation.
Top note: Fresh, Citrus, Lime, Floral, Spicy, Clove
Middle note: Cedar, Earthy, Rooty, Balsamic, Amber
Base note: Woody, Guiacwood, Peppery, Resinous, Earthy, Floral
Specifications
Quantity: 10ml
Gross Weight: 43gms
MRP (Incl. of all taxes): ₹199

Mfg. date: Jan-2021

Best before: 24 months

Contains: 1 N of fragrance oil
What You Feel
The fragrance causes one to feel calmer due to the presence of woody, earthy base scents like Guiacwood. Think of dry grass in the sun, along the roads…There is also slight lime-like and spicy scents which altogether helps balance the senses.
Country of Origin: India
Manufactured by: La Scenteur Fragrance Technologies Pvt. Ltd., Baikampady Industrial Area, Mangaluru, Karnataka - 575011
Marketed by: Aromee Brands Pvt. Ltd., 3rd Floor, 401, Sairam Central Mall, Syndicate Circle, Anantha Nagar 1st Stage, Manipal, Udupi, Karnataka - 576104
* Please note these are diffuser fragrance oils and cannot be used on the skin
Customer Reviews
Write a Review
Ask a Question
26/03/2022
Not Impressed
Personally, I felt the vetiver smell was missing completely. Also was not impressed with the Temple Divine, will be trying the sandalwood soon.
SIVAKUMAR R.
Chennai, Tamil Nadu, India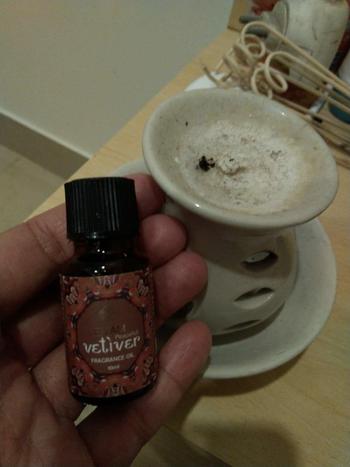 11/02/2022
A very uncommon pleasant smell
This is my personal favourite. Whether you use it during meditation or in the bedroom, this is a top-notch from Ekam. You hardly get the Vetiver Essential oils at this price. Thank you Ekam for having a wide range of these!
Rohit C.
Kolkata, West Bengal, India
24/12/2021
Great fragrance
Wonderful fragrance, everyone keeps searching for the source...
18/06/2021
Very nice fragrance
This, like all other fragrances from EKAM is a very soothing one. EKAM's fragrances are not "hitting-on-the-face-strong" and are always just the amount that makes you feel peaceful.
CS
Nellore, Andhra Pradesh, India
28/05/2021
Review
Calm n soothing fragrance
Fayeza
Ahmedabad, Gujarat, India