Ocean Dream 3 Wick Soy Wax Scented Candle
Light up Ocean Dream when you want to soak in some fresh notes of the oceanside. The scent is strong and clear, with floral notes to infuse it with life. Citrus & aqua notes come together to create a strong, invigorating aroma. Our Ocean Dream candle carries musk and wood as base notes for the perfect tea-time fragrance.
Top Notes: Fresh Citrus Aqua
Middle Notes: Floral (Jasmine, Muguet), Orris Violet
Base Notes: Ambery, Musky, Woody fun
EKAM range of 3 wick scented candles have been fabricated with soy wax, a green alternative to paraffin wax. Each of the candles come in jars covered extensively with the motif of the ambience the candle is trying to create. This makes them easier to match with the rooms or your own personality. They make great gifts presents for birthdays, anniversaries, parties, etc.
Poured in our factory in Mangalore, India, our unique 3 Wick Scented Candles are made from premium quality soy wax and lead-free wick, having a burn time of 30 hours each.
Net weight: 256 g
Gross weight: 655 g
Burn time: 30 h
Dimension: 8 x 10.5 cm
MRP (Incl. of all taxes): ₹800
Mfg. date: June-2021
Best before: 24 months
Contains: 1 N of scented candle
Country of Origin: India
Manufactured by: Primacy Industries Ltd., Baikampady Industrial Area, Mangalore, Karnataka - 575011
Marketed by: Aromee Brands Pvt. Ltd., 3rd Floor, 401, Sairam Central Mall, Syndicate Circle, Anantha Nagar 1st Stage, Manipal, Udupi, Karnataka – 576104
Remove the lid from the jar before lighting the candle. Do not place the lid back on while the candle is burning. Light all 3 wicks at the same time for maximum aroma.
The first time you use the candle, burn for at least 3-4 hours. Till a small pool of wax reaches the candle edges. Prevents uneven burn, tongue flick, tunneling, spillage etc.
From second usage onwards, trim the wick a little before you light the candle. A pair of scissors will do. Prevents wick folding on itself, flame dying out, mushrooming etc.
Do not light candle where there is air blowing, or near combustibles.
Aromee Brands Pvt. Ltd.
D.No: 6-234/2, Second Floor, Plot No: 7D, Baikampady Industrial Area, Mangalore, Karnataka – 575011
Phone: +91-8867915084 / +91-6366226493
(Timings: 9:00 AM to 5:30 PM | Mon – Sat, excluding national/ public holidays)
E-mail: cs@ekamonline.com
WHAT WE SWEAR BY
100% lead-free wicks, imported from Germany & the US
Fragrances conform to IFRA (International Fragrance Association) standards
All Candles adhere to International ASTM (American Society for Testing and Materials) Quality Standards
Each candle uses paraffin & vegetable-based waxes of the highest quality
Colours used are UV protected, imported from Germany
Customer Reviews
Write a Review
Ask a Question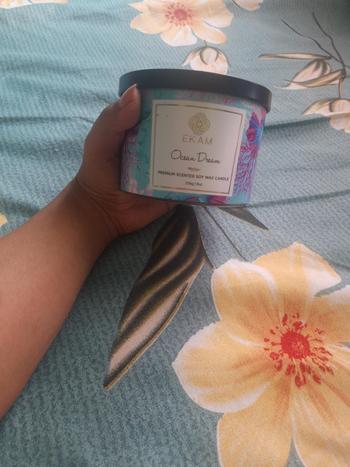 10/04/2022
Smells like a mix of lemon n jasmine
It smells a mix of lemon n jasmine n i liked it just because i dont like strong smell its not over powering it smells mild so it works for me
Annie N.
Shillong, Meghalaya, India
05/04/2022
Average Ocean Breeze Candle
The notes aren't similar to what's described. The fragrance is very mild and midway through it started smelling like an incense stick. Although, can't expect too much at this price point now can we?
AT
Mumbai, Maharashtra, India
05/02/2022
Smells like your favourite beach holiday
If I had to choose one scent I will keep buying from Ekam, it will be this. It is so soothing and pleasant. Dear Ekam Fam, if ever you plan to phase this scent out, please send alll the remaining units to me first !!! I need a lifetime supply of this !!
SHIM
Chennai, Tamil Nadu, India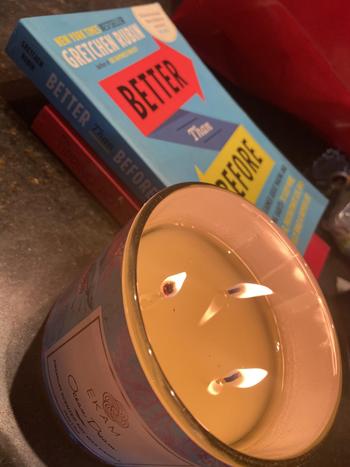 16/01/2022
My new favourite
This is the perfect mix of woody and musky and I love it so much. One of my best purchases in my collection
Sonia
Hyderabad, Telangana, India
15/01/2022
Perfect flower and woody smell
This smells actually like beach, a hint of floral and woody smell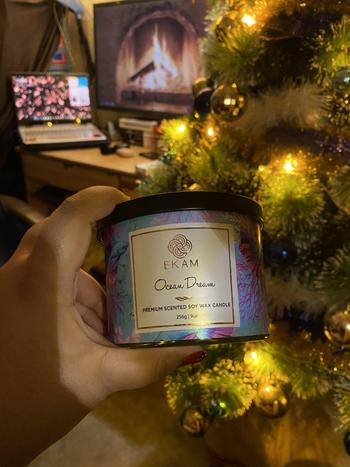 13/01/2022
Smells like a bubble bath
Perfect for the daytime!
Riya B.
Kolkata, West Bengal, India
12/01/2022
Soothing fragrant soy candles
It's on of my best buys till now, i have gifted it to my Boss and loved it
Riya G.
Delhi, National Capital Territory of Delhi, India
11/01/2022
Faiza K.
Hyderabad, Telangana, India