Lavender Ceramic Oil Warmer Set, Core Range
Lavender: Induce a sense of calm and tranquillity with the aroma of our Lavender fragrance oil. Layer the air with nature's fragrances of a sweet and fresh aroma that will uplift your surroundings.

Light up every corner of your home with gorgeous scents to help you rewind, relax, and energise. The ceramic oil warmer is the perfect way to perfume your home with our fragrance oils and adds a refined touch to your decor while it's glowing. It is packed in a decorated box with a whimsical design that makes it perfect for gifting.


What You Feel
Our Lavender aroma is beloved for its soothing and calming effects on mind and body. It also adds a soft personality to your rooms. The aroma is a mix of vanilla, oriental and camphor notes which give it a dream-like quality, perfect for an intimate setting with a loved one.
Remove the shade from the jar. Light the candle and place the shade back on.
The first time you use the candle, burn for at least 4 hours. Till a small pool is formed. Prevents uneven burn, tongue flick, tunneling, spillage etc.
From second usage onwards, trim the wick a little before you light the candle. A pair of scissors will do. Prevents wick folding on itself, flame dying out, mushrooming etc.
Do not light candle where there is air blowing, or near combustibles.
Reuse the glass jars with our votive refill candles.
Aromee Brands Pvt. Ltd.
D.No: 6-234/2, Second Floor, Plot No: 7D, Baikampady Industrial Area, Mangalore, Karnataka – 575011
Phone: 08046809555
(Timings: 9:00 AM to 5:30 PM | Mon – Sat, excluding national/ public holidays)
E-mail: cs@ekamonline.com
Customer Reviews
Write a Review
Ask a Question
05/03/2022
Superb product, nice aroma
Ramya
Bengaluru, Karnataka, India
23/11/2021
Superb Fragrance
So soothing and smooth... instant lift to your mood...
S.B.
Bhubaneswar, Odisha, India
16/11/2021
Thank you thank you thank you
So well packed and amazing fragrance....
S.B.
Bhubaneswar, Odisha, India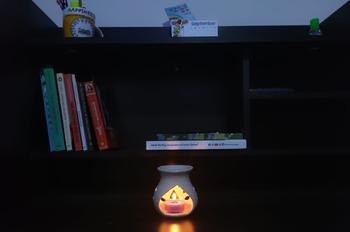 05/10/2021
Lovely Lavender Fragrance
The fragrance simply superb which keep me clam to study
Shrinidhi S.
Bengaluru, Karnataka, India
06/09/2021
Loved the fragrances
Bought this after a lot of research and it has exceeded my expectations. My family is absolutely in love with these candles and planning to buy more. These are the perfect candles to have in the house for any occasion.
Snehal
Mumbai, Maharashtra, India