Flash Floral Premium Oil Warmer with 4 Fragrance Oil
Made from the richest of ceramic materials, Porcelain, we present our Premium Range of electric oil warmers. Porcelain boasts of being durable and pleasing to the touch, making these products ideal for home décor in addition to diffusing scents.
Benefits
They make elegant pieces to place in homes or offices, with their unmatched finish and whiteness. The warmers offer a brilliant glow, highlighting the patterns carved on them. Just plug one on with a fragrance oil of your choice and sit back as the aroma envelops you.
Combo
Pick this to complete smaller spaces, with a touch of soft beauty. Small flower patterns, easy on the eyes. Matte finish.
Rose: Rose petals scent. Floral, sweet & soft. Moderate intensity.
Lemongrass: Citrusy scent. Very fresh and energizing. Strong intensity.
Mahogany: Woody scent. Warm, calming, sophisticated. Moderate intensity.
Twilight Sky: Oriental scent. Rich, spicy, with hints of Oudh. Moderate intensity.
Key Features
Adjustable settings: Inbuilt regulator that lets you control vapor density, heat intensity, brightness, and aroma diffusion.
Strength: Made of Porcelain, extremely durable and non-conductive.
Noiseless operation: Operates without any undue or large noise.
Translucent design: Reflects glow of the light such that entire pattern/design is made visible.
Hassle-free functionality: Allows lighting of oils without production/spillage of excessive soot on surfaces.
Oil Warmer Specifications
MRP (Incl. of all taxes): ₹3500
Model: MECB-011
Color: White
Size: Diameter 13.5 cm x Height 16.5cm (approx.)
Power: 45 W
Material: Porcelain
Country of Origin: China
Manufactured by: Mango Ceramics, 3rd floor, E Building, TCL Industrial Park, Nanhai Avenue, Nanshan District, Shenzhen, Guangdong Province, China
Packed & Marketed by: Aromee Brands Pvt. Ltd., 3rd Floor, 401, Sairam Central Mall, Syndicate Circle, Anantha Nagar 1st Stage, Manipal, Udupi, Karnataka - 576104
Fragrance Oil Specifications
MRP (Incl. of all taxes): ₹540
Country of Origin: India
Manufactured by: La Scenteur Fragrance Technologies Pvt. Ltd., Baikampady Industrial Area, Mangaluru, Karnataka - 575011
Packed & Marketed by: Aromee Brands Pvt. Ltd., 3rd Floor, 401, Sairam Central Mall, Syndicate Circle, Anantha Nagar 1st Stage, Manipal, Udupi, Karnataka - 576104
*Please note these are diffuser fragrance oils and cannot be used on the skin

Remove the shade from the jar. Light the candle and place the shade back on.
The first time you use the candle, burn for at least 4 hours. Till a small pool is formed. Prevents uneven burn, tongue flick, tunneling, spillage etc.
From second usage onwards, trim the wick a little before you light the candle. A pair of scissors will do. Prevents wick folding on itself, flame dying out, mushrooming etc.
Do not light candle where there is air blowing, or near combustibles.
Reuse the glass jars with our votive refill candles.
Aromee Brands Pvt. Ltd.
D.No: 6-234/2, Second Floor, Plot No: 7D, Baikampady Industrial Area, Mangalore, Karnataka – 575011
Phone: 08046809555
(Timings: 9:00 AM to 5:30 PM | Mon – Sat, excluding national/ public holidays)
E-mail: cs@ekamonline.com
Customer Reviews
100
reviewers would recommend this product
Write a Review
Ask a Question
Filter Reviews:
bulb
videos
stage
completion
response
item pricing
price
Ekam
27/01/2023
I recommend this product
Fills the room with a divine aroma
I had been using an ultrasonic aroma diffuser for a long time. When I came to know about the EKAM brand and get hooked on the quality of products they are providing compare to the other bands we get on online apps. I ordered this floral premium oil warmer thinking about what difference an oil warmer has from an oil diffuser. At first use, to my surprise, I find the oil warmer to give a more authentic smell as compared to diffuser. But later I realised, both diffuser and oil warmer work on the oil chemistry in a different way and provides a different experience even when used with similar oils. I am in love with this product and it always sits near my bed during my sleep. Highly recommended.
dheeraj k.

India
27/08/2022
I recommend this product
Ekam Flash Floral oil warmer review.
Good and beautiful product. But I feel that the price of this product as compared to the completion is very high. Ekam should rework this item pricing and they will receive a good response. Please let me know how to change the bulb at a later stage. If u hv any videos on this please share. Thankyou!
Milind P.

India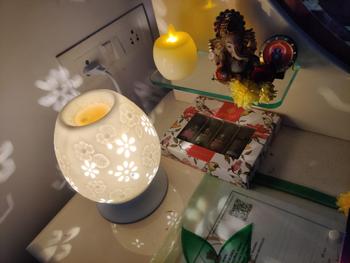 14/04/2022
One of the Best
Loved the fragrance and premium finishing of the porcelain pot.... Fragrance intensify as the days passes by... Adjustable brightness is a blessing
Raghavendra C.
Bengaluru, Karnataka, India
23/01/2022
Close to the Spirit
The air is filled with a smell of spiritual atmosphere.
Devasahayam L.
Krishnagiri, Tamil Nadu, India
13/05/2021
Best Ever
Love the quality
Sahil D.
Bhubaneswar, Odisha, India
15/11/2020
Bulb broken
Hi, the burner is beautiful but the bulb was broken and essential oils were leaking. Though five star will be for burner.
Dipti N.
Mumbai, Maharashtra, India
31/08/2020
Perfect
the product was really good
Akanksha P.
Hyderabad, Telangana, India