Temple Bloom Pillar Scented Candle
DELIVERED BETWEEN 5-7 BUSINESS DAYS
Temple Bloom invokes the beautiful scents around temples. With its blend of notes like eucalyptus, basil, jasmine, it is perfect for lighting in prayer halls, during festival gatherings. Almost all the notes used are associated with sacred spaces and are commonly used in rituals. Combined with the sweet, creamy scent of coconut, the overall aroma is uniquely pleasant and nostalgic.
Top notes: Green, Mint, Eucalyptus
Middle notes: Floral, Jasmine, Coconut, Banana, Basil
Bottom notes: Woody, Musky, Camphoraceous
EKAM's Pillar Scented Candles make your spaces look classy, elegant and offer abundant fragrance. Their stately design makes them great for home décor statement pieces. From gatherings to weddings to dinner parties to romantic nights, pillar candles create a stunning ambience that is hard to match.
Poured in our factory in Mangalore, India, our stately Pillar Scented Candles are made from premium quality wax and lead-free wick, having a burn time of 30 hours each.
Net weight: 218 gms
Gross weight: 218 gms
Burn time: 30 hrs
Dimension: 7.5 x 6 cms
MRP(Incl. of all taxes): ₹285
Mfg. date: Aug-2021
Best before: 24 months
Contains: 1 N of scented candle
Manufactured by: Primacy Industries Ltd., Baikampady Industrial Area, Mangalore, Karnataka - 575011
Marketed by: Aromee Brands Pvt. Ltd., 3rd Floor, 401, Sairam Central Mall, Syndicate Circle, Anantha Nagar 1st Stage, Manipal, Udupi, Karnataka – 576104
Always burn candle only on top of heat-resistant surfaces (eg granite, stone patches, brass candle holders etc).
The first time you use the candle, burn for at least 2-3 hours. Till a small pool of wax reaches the candle edges. Prevents uneven burn, tongue flick, tunneling, spillage etc.
From second usage onwards, trim the wick a little before you light the candle. A pair of scissors will do. Prevents wick folding on itself, flame dying out, mushrooming etc.
Do not light candle where there is air blowing, or near combustibles.
Aromee Brands Pvt. Ltd.
D.No: 6-234/2, Second Floor, Plot No: 7D, Baikampady Industrial Area, Mangalore, Karnataka – 575011
Phone: +91-8867915084 / +91-6366226493
(Timings: 9:00 AM to 5:30 PM | Mon – Sat, excluding national/ public holidays)
E-mail: cs@ekamonline.com
WHAT WE SWEAR BY
100% lead-free wicks, imported from Germany & the US
Fragrances conform to IFRA (International Fragrance Association) standards
All Candles adhere to International ASTM (American Society for Testing and Materials) Quality Standards
Each candle uses paraffin & vegetable-based waxes of the highest quality
Customer Reviews
Write a Review
Ask a Question
30/05/2022
I recommend this product
TEMPLE BLOOM PILLAR
Best ever fragrance! Have purchased it 6 times including the Room Freshner!
05/04/2022
Divine scent
This scent is so divine and pure. Love the heavenly vibe it creates in the house, perfect for meditation.
SVG
Delhi, National Capital Territory of Delhi, India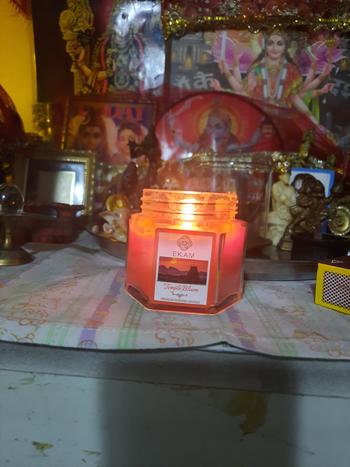 03/04/2022
Temple Bloom
I ordered a few candles last November to try out Ekam brands as their products caught my attention due to their attractive ads and prices..But now I have ordering it regularly, for gifting to friends and myself,due to the awesomest fragrances and the quality of the products.The candles in particular have a high burnout time and they spread their beautiful fragrances till the last..I highly recommend Ekam products especially Temple Bloom and Rose candles.
Puja B.
Delhi, National Capital Territory of Delhi, India
01/04/2022
Superb
What a fragrance!!!! So soothing & calming..I light up this temple bloom candle during meditation..definitely buy more
29/03/2022
Mild and very calm fragrence
This candle is so amazing. The fragrance is so mild and soothing , that it will lift up the mood. And its long lasting. Must buy everyone!
Ira S.
New Delhi, National Capital Territory of Delhi, India
08/02/2022
Worth it
Buy it , you won't regret
anu k.
New Delhi, National Capital Territory of Delhi, India
27/01/2022
This one takes you on a nostalgic trip of visiting a temple at wee hours of the day. It smells heavenly!
Amruta J.
Bengaluru, Karnataka, India
22/01/2022
Temple Bloom is truly a divine fragrance and also a favourite. Grab yours whenever it is in stock.