Solar Chakra Diffuser Essential Oil Blend, Chakra Series
The Solar Plexus Chakra is located above the navel centre and represents motivation and energy. When blocked, your confidence will be very shaky, and you may have self-esteem problems. Physically, this can lead to issues like digestive cramps, difficulties with short-term memory, bloating, nausea etc.
Fragrance notes: Cedarwood, Grapefruit, Sweet Marjoram, Black Pepper, Ginger Root
Cedarwood - Promotes willpower and ambition
Grapefruit - Brings feelings of optimism and spontaneity
Sweet Marjoram - Promotes courage, confidence, and personal integrity
Black Pepper - Helps strengthen your personal power
Ginger Root - Encourages personal drive, motivation, and initiative
EKAM's blend made from Cedarwood, Grapefruit, Sweet Marjoram, Black Pepper, and Ginger Root can help unblock the Solar Plexus Chakra and revive energy. The fragrance is slightly herbal and sweet. For maximum benefit, use the blend during Navasana (Boat) pose.
EKAM's Chakra Series aromatherapy oils are blended to help give you an easy and enjoyable way to balance your chakras and boost your yoga practice so that you can successfully combat the stress of modern-day life and lead a fulfilling and content life. When used regularly in combination with diet, yoga, and affirmations, you will see benefits related to your chakras.
Blended in our subsidiary factory in Mangalore, India, our aromatherapy oils are made from diligently sourced essential oils.
Net volume: 10 ml
MRP (Incl. of all taxes): ₹499
Mfg. date: Jan-2021
Best before: 24 months
Contains: 1 N of fragrance oil
Country of Origin: India
Manufactured by: La Scenteur Fragrance Technologies Pvt. Ltd., Baikampady Industrial Area, Mangaluru, Karnataka - 575011
Marketed by: Aromee Brands Pvt. Ltd., 3rd Floor, 401, Sairam Central Mall, Syndicate Circle, Anantha Nagar 1st Stage, Manipal, Udupi, Karnataka – 576104
Not for use on skin or as a substitute for medicines.
Best used with EKAM's Aroma Diffuser and Humidifier which keeps the molecular structure of the essential oils intact while diffusing the oils widely in the air.
Add 10-15 drops to the water of the bowl to diffuse fragrance.
Store in a cool, dry place away from direct sunlight.
Aromee Brands Pvt. Ltd.
D.No: 6-234/2, Second Floor, Plot No: 7D, Baikampady Industrial Area, Mangalore, Karnataka – 575011
Phone: +91-8867915084 / +91-6366226493
(Timings: 9:00 AM to 5:30 PM | Mon – Sat, excluding national/ public holidays)
E-mail: cs@ekamonline.com
What we swear by
Customer Reviews
Write a Review
Ask a Question
27/05/2022
Divine
Loved the fragrance has a refreshing effect.
Akansha A.

India
30/09/2021
Ekam root heart chakra oil
When I order heart chakra oil and started diffusing 2 hrs before going to bed, I could sleep very peaceful and I am able to forgive now. Thank you so much for developing this blend ~ Pournima Virginkar
07/09/2021
Help relieve stress
Relief to my headache and migraine. Though doesn't have a medicinal benefit, gives some relief.
Sujith
Manipal, Karnataka, India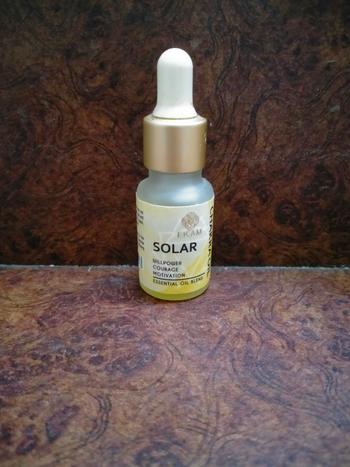 09/11/2021
Serious and sincere
Earthy, woody and liable to get "bitter" in excess quantity. This blend is not a people pleaser and is not interested in attracting you with a shallow, citrusy-fruity personality! It's been born for a purpose which is in the description. Start cautiously and with a conservative quantity. Show respect and it will love and heal you right back.
NS
Noida, Uttar Pradesh, India