Mahogany Pillar Scented Candle
Our Mahogany Pillar Scented Candle is an all-time favourite due to its rich aromatic aroma. The fragrance feels like you're in a maze of flowers, lavender and rose petals being crushed nearby. One whiff and you will fall in love with this deep woodsy, floral fragrance that will make your home feel warm and inviting. Relax your senses with this sleek addition to your home décor.
Top notes: Green, Floral, Rosemary, Citrus
Middle notes: Geranium, Lavender, Rose
Base notes: Cedarwood, Balsamic, Sandalwood
EKAM's Pillar Scented Candles make your spaces look classy, elegant and offer abundant fragrance. Their stately design makes them great for home décor statement pieces. From gatherings to weddings to dinner parties to romantic nights, pillar candles create a stunning ambience that is hard to match.
Poured in our factory in Mangalore, India, our stately Pillar Scented Candles are made from premium quality wax and lead-free wick, having a burn time of 30 hours each.
Net weight: 218 gms
Gross weight: 218 gms
Burn time: 30 hrs
Dimension: 7.5 x 6 cms
MRP(Incl. of all taxes): ₹285
Mfg. date: Aug-2021
Best before: 24 months
Contains: 1 N of scented candle
Manufactured by: Primacy Industries Ltd., Baikampady Industrial Area, Mangalore, Karnataka - 575011
Marketed by: Aromee Brands Pvt. Ltd., 3rd Floor, 401, Sairam Central Mall, Syndicate Circle, Anantha Nagar 1st Stage, Manipal, Udupi, Karnataka – 576104
Always burn candle only on top of heat-resistant surfaces (eg granite, stone patches, brass candle holders etc).
The first time you use the candle, burn for at least 2-3 hours. Till a small pool of wax reaches the candle edges. Prevents uneven burn, tongue flick, tunneling, spillage etc.
From second usage onwards, trim the wick a little before you light the candle. A pair of scissors will do. Prevents wick folding on itself, flame dying out, mushrooming etc.
Do not light candle where there is air blowing, or near combustibles.
Aromee Brands Pvt. Ltd.
D.No: 6-234/2, Second Floor, Plot No: 7D, Baikampady Industrial Area, Mangalore, Karnataka – 575011
Phone: +91-8867915084 / +91-6366226493
(Timings: 9:00 AM to 5:30 PM | Mon – Sat, excluding national/ public holidays)
E-mail: cs@ekamonline.com
WHAT WE SWEAR BY
100% lead-free wicks, imported from Germany & the US
Fragrances conform to IFRA (International Fragrance Association) standards
All Candles adhere to International ASTM (American Society for Testing and Materials) Quality Standards
Each candle uses paraffin & vegetable-based waxes of the highest quality
Customer Reviews
Write a Review
Ask a Question
05/05/2022
I recommend this product
Mesmerizing aroma
I think I have bought some 5-6 candles from Ekam, the smell of Mahogany is really awesome. I will highly recommend it to all. The customer service of Ekam too is appreciable. I am happy as a Ekam customer..
02/03/2022
Surprised with the amazing scent
I wanted to try out a new scent other than vanilla and usual scents that are in my favorite list and decided to try someone new. I was surprisingly pleased with the scent which is now an instant hit.
SVG
Delhi, National Capital Territory of Delhi, India
24/01/2022
So relaxing
The fragrance is so beautiful
10/01/2022
Anushree R.
Bengaluru, Karnataka, India
02/12/2021
Relaxing mohogany
Other than not being able to find a larger pillar type of mahogany scented candle; the actual quality of the candle from packaging to delivery timelines was just perfect.
Daniel B.
Bengaluru, Karnataka, India
15/11/2021
Amazing mahogany.
I believe a lot in therapy.the diffuser drops and candles help me maintain my mental health.also helps me relax after an hectic day. Mahogany and temple scents are one of the best
15/11/2021
Very nice and beautiful products.Really awesome
Arun J.
Delhi, National Capital Territory of Delhi, India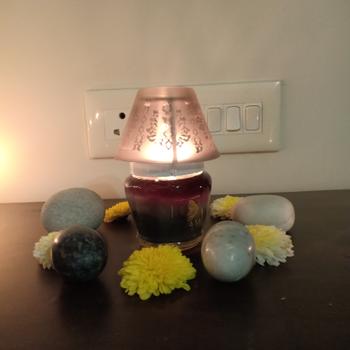 14/11/2021
Beautiful experience
The Ekam candles are beautifully aromatic. The whole house was full of beautiful fragrance. Loved it. Thanks Ekam for such beautifully soothing products.
Sarika D.
Mumbai, Maharashtra, India