Happy Holidays Christmas Jar Candle
Happy Holidays is the perfect pick for freezing-cold winter nights. Its white exterior and grounding fragrance blend makes it well-suited for calming the senses and helping relax. Our candle will work best for dining rooms, home office rooms, and bedrooms.
Fragrance
A powdery concoction of comforting wood and fresh green soft florals.
Top note: Green, Woody, Sandalwood
Middle note: Floral, Violet
Bottom note: Woody, Musky, Cedarwood
What You Feel
Like you're being warmed all over by gentle but constant firewood. You gradually feel the hold of the cold outside give way to a feeling of peace and security.
Specifications

Net weight 199 g
Gross weight: 476 g
Dimensions: 8.5 x 10 cm
Burn time: 30 hrs
Mfg date: Nov 2021
MRP (Incl. of all taxes): ₹1105
Contains: 1 N of Scented Candle
Country of Origin: India
Manufactured by: Primacy Industries Ltd., Baikampady Industrial Area, Mangalore, Karnataka - 575011
Marketed by: Aromee Brands Pvt. Ltd., 3rd Floor, 401, Sairam Central Mall, Syndicate Circle, Anantha Nagar 1st Stage, Manipal, Udupi, Karnataka - 576104
Customer Reviews
Write a Review
Ask a Question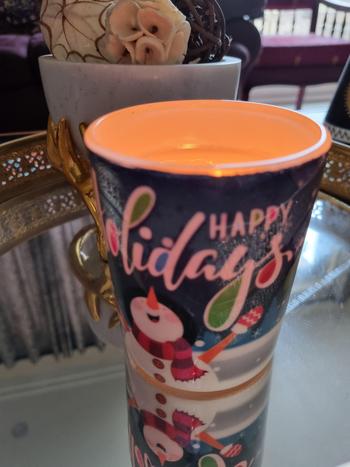 20/01/2022
Nice
Nice fragrance - I find the scent floral with a hint of sandalwood. Clean even burn and decent throw.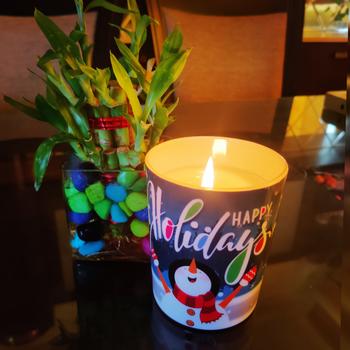 26/12/2021
Awesome ❤️❤️❤️
Full of love ❤️light colour and life
Smita T.
Bengaluru, Karnataka, India
26/12/2021
Happy Holidays.... Simply beautiful ⛄☃️❤️
We loved it❤️❤️❤️❤️Made our Christmas sooooo much more special and fragrant
Smita T.
Bengaluru, Karnataka, India
17/12/2021
Happy Holidays Christmas Jar Candle
Such a pretty candle with the snowman☃️ on the jar already giving Christmas vibes. The jar is quite heavy and sturdy. I have burnt this candle twice and it fills the room with a warm woody and floral fragrance which is very soothing in the cold winters we are experiencing in the North. Even without burning the candle, I get the beautiful smell every time I pass by. Really happy with the purchase. It is very good gifting option too in this festive season. Thank you Ekam! ❤️
Niha
Chandigarh, Chandigarh, India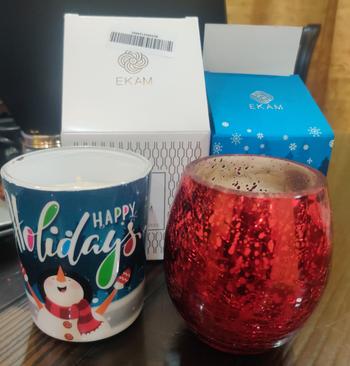 10/12/2021
HAPPY HOLIDAYS...SMELLS WOW !!!!
Love Love ❤️Love these.......❤️
Smita T.
Bengaluru, Karnataka, India
10/12/2021
HAPPY HOLIDAYS...SMELLS WOW !!!!
I have bought Happy Holidays Mug Candle along with Apple Crackle Jar candles....from holiday collection and planning to buy Hobnail candles too...Still waiting for Christmas to burn these...just postingy review for the fragrance and quality of the product...without even burning it gives a lot of festive fragrance when you open them...loved both ❤️❤️Already feels like Christmas has arrived and Santa is at home ❤️❤️❤️❤️Go for it guys.... Especially loved the fragrance of HAPPY HOLIDAYS...TOOOOOO GOOD❤️
Smita T.
Bengaluru, Karnataka, India