Car Aroma Diffuser with Citrus Rush Car Fragrance Oil
Driving should be an 'experience'. We are bringing back 'gorgeous' car rides with our 2-in-1 car humidifiers-cum-diffusers. The devices adjust the humidity inside your car and protect from cold, sweat and irritation. At the same time, your senses will be indulging in charming fragrance. Citrus Rush is a Citrus-powered fragrance that is sure to give you a burst of energy you need on those long drives. It is also great when you need to make early morning or late-night rides, as the citrus will clear your head.
Fragrance notes:
Top: Fresh, Ozonic, Aqua, Citrus
Middle: Floral, Green, Fruity, Lily
Base: Ambery, Musky, Woody
EKAM's Car Aroma Diffusers-Humidifiers are portable devices that fit snugly in your car & spruce up the ride. The fine mist emitted by the humidifier protects the insides of the car from potential health-risks like static electricity, radiation etc while the fragrance soothes the mind and creates a pleasant ambience.
Our car diffusers and fragrance oils are made with premium ingredients to provide you the best experience.
DIFFUSER BENEFITS
Warranty: The manufacturer warrants this product to be free from defects in workmanship and materials, under normal residential use and conditions, for a period of 12 months from the original invoice date.
2-in-1 diffuser & humidifier: Clears the air, increasing its humidity levels. Also diffuses pleasant fragrances.
Ease of operation: Plug it into a cigarette holder & operate it using simple touch gestures.
Wide functionality: Designed with an adjustable angle bracket. Coming with a 1U/2U socket charger, it can be used as an external power supply for your other gadgets like mobile phone, accessories etc.
Noiseless operation: Operates without any undue or large noise. Poses no risk of disturbance during driving.
Auto-off function: Shuts off power automatically after a duration of 2 hours of continuous operation.
DIFFUSER SPECIFICATIONS
Water Tank Capacity: 50 ml
Dimensions: 68*70*210 (L*W*H)
Power Type: Automotive Power Socket
Power: 1.5-3.5 W
Voltage: DC 12-24 V
Output of USB: DC 5 V
Max. Current: 2.1 A
Spray amount: 20-30 ml/hour
Operating temperature: 0-45 °C
Continuous working time: 2 h
Country of Origin: China
Manufactured by: Foshan Shunde Guoxin Electrical Industrial Co. Ltd., Building 10, Phase 2, Tianfulai International Industrial City, No. 37, West Changbao Road, Rongli, Ronggui, Foshan, Guangdong, China
Imported & Marketed by: Aromee Brands Pvt. Ltd., Sairam Central Mall, Syndicate Circle, Manipal, Karnataka - 576104, India
FRANGRANCE OIL SPECIFICATIONS
Net volume: 10 ml
Mfg. Date: June-2021
Country of Origin: India
Manufactured by: Primacy Industries Ltd., Baikampady Industrial Area, Mangalore, Karnataka - 575011
Marketed by: Aromee Brands Pvt. Ltd., Sairam Central Mall, Syndicate Circle, Manipal, Karnataka - 576104, India
Add 10-15 drops of fragrance oil to 10-15 drops of water in the water tank before attaching it back to the diffuser. Plug into power socket and switch it on.
Store fragrance oil in a cool, dry place away from direct sunlight.
Do not go for extended periods of time with the device functioning or heating up.
Aromee Brands Pvt. Ltd.
D.No: 6-234/2, Second Floor, Plot No: 7D, Baikampady Industrial Area, Mangalore, Karnataka – 575011
Phone: 08046809555
(Timings: 9:00 AM to 5:30 PM | Mon – Sat, excluding national/ public holidays)
E-mail: cs@ekamonline.com
What we swear by
Customer Reviews
100
reviewers would recommend this product
Write a Review
Ask a Question
23/11/2022
I recommend this product
Electric Oil Warmers with Essential Oils
Excellent product relaxing, soothing atmosphere.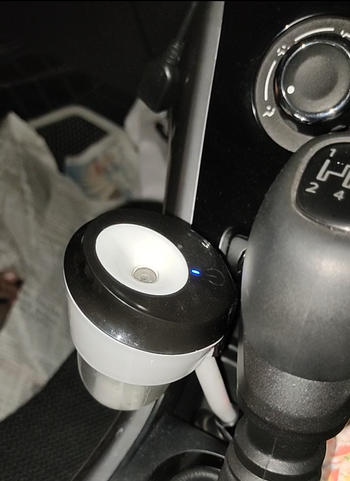 18/11/2022
I recommend this product
Best for car freshness
It is very useful for car maintaining moisture and also fragrance
Tejas J.

India
21/10/2022
I recommend this product
Go for it
Guys, this car freshener is absolutely the best I've tried till day. I was confused which fragrance to try first and I guess I've made the best choice with orchid flower. I cannot wait to try the other flavors also. This one is perfect in size and looks and smells amazing. After a tiring day, my drive time home with this pleasant fragrance relaxes me down. At this price, it is a steal deal. Try it guys.
Arvi T.

India
17/10/2022
I recommend this product
Extraodinary
Spiritually nourishing
Devasahayam

India
03/06/2022
I recommend this product
Love it...
I ordered this for my brother , and he loved the fragrance.... the look is so sleek and it is adding to the beauty of the car's interior...
Sneha B.

India
13/04/2022
Wow! Citrus Rush Car Fragrance Oil is truly amazing
Best car diffuser. Citrus Rush Car Fragrance Oil is truly amazing. @EKAM Team, pls list Citrus Rush Car Fragrance Oil available separately as well as its ONLY available with the car Diffuser combo.
Selvasundar M.
Bengaluru, Karnataka, India
12/03/2022
A worth car diffuser
Best car diffuser ever used. Nice & flexi design is worth the price. Frangrance of the oils are truly amazing
26/11/2021
Best diffuser
One of the best car diffusers. Love the fragrance oil
Anand
Bengaluru, Karnataka, India