Fresh Cotton 3 Wick Soy Wax Scented Candle
Fresh Cotton 3 Wick Soy Wax Scented Candle
Our Fresh Cotton 3 Wick Soy Wax Scented Candle is a floral, powdery fragrance combined with fresh green notes that gives you smooth and relaxing vibes. Fresh Cotton is delicately sweet and floral, almost feeling like it fades into the air, yet still being distinct. Light it & close your eyes. You'll smell flowers & the blue sky above you.
Top notes: Fresh Delicate, Powdery, Bergamot, Cotton Flower
Middle notes: Cotton, Soft Floral White Peony, Lily of the Valley, White Rose
Base notes: Powdery, Sweet White Musk
EKAM's range of 3 Wick Scented Candles have been fabricated with soy wax, a green alternative to paraffin wax. Each of the candles come in jars covered extensively with the motif of the ambience the candle is trying to create. This makes them easier to match with the rooms or your own personality. They make great gifts presents for birthdays, anniversaries, parties, etc.
Poured in our factory in Mangalore, India, our unique 3 Wick Scented Candles are made from premium quality soy wax and lead-free wick, having a burn time of 30 hours each.
Net weight: 256 g
Gross weight: 655 g
Burn time: 30 h
Dimension: 8 x 10.5 cm
MRP (Incl. of all taxes): ₹800
Mfg. date: June-2021
Best before: 24 months
Contains: 1 N of scented candle
Country of Origin: India
Manufactured by: Primacy Industries Ltd., Baikampady Industrial Area, Mangalore, Karnataka - 575011
Marketed by: Aromee Brands Pvt. Ltd., 3rd Floor, 401, Sairam Central Mall, Syndicate Circle, Anantha Nagar 1st Stage, Manipal, Udupi, Karnataka – 576104
Remove the lid from the jar before lighting the candle. Do not place the lid back on while the candle is burning. Light all 3 wicks at the same time for maximum aroma.
The first time you use the candle, burn for at least 3-4 hours. Till a small pool of wax reaches the candle edges. Prevents uneven burn, tongue flick, tunneling, spillage etc.
From second usage onwards, trim the wick a little before you light the candle. A pair of scissors will do. Prevents wick folding on itself, flame dying out, mushrooming etc.
Do not light candle where there is air blowing, or near combustibles.
Aromee Brands Pvt. Ltd.
D.No: 6-234/2, Second Floor, Plot No: 7D, Baikampady Industrial Area, Mangalore, Karnataka – 575011
Phone: +91-8867915084 / +91-6366226493
(Timings: 9:00 AM to 5:30 PM | Mon – Sat, excluding national/ public holidays)
E-mail: cs@ekamonline.com
WHAT WE SWEAR BY
100% lead-free wicks, imported from Germany & the US
Fragrances conform to IFRA (International Fragrance Association) standards
All Candles adhere to International ASTM (American Society for Testing and Materials) Quality Standards
Each candle uses paraffin & vegetable-based waxes of the highest quality
Colours used are UV protected, imported from Germany
Customer Reviews
Write a Review
Ask a Question
12/04/2022
Very good fragrance. good product will buy again. fragrance stayed on next day. 5 stars out of five.
Meghna
Delhi, National Capital Territory of Delhi, India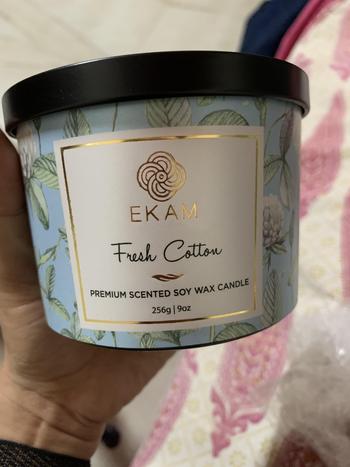 01/02/2022
I love this
One of my fav candles from ekam. Such a soothing smell it has. I have jar candle in this range. It's difficult to explain how it smells, but it smells awesome. If you are someone who like mild smell I'm the room, go for it.
Megha R.
Channarayapatna, Karnataka, India
23/01/2022
This smells like baby powder
It's so subtle and fresh. Reminds me of babies.
Aditi
New Delhi, National Capital Territory of Delhi, India
09/01/2022
The fragrance is wonderful as ever but the quantity and size has definitely been reduced. Was slightly disappointed to notice this.
Chhavi S.
New Delhi, National Capital Territory of Delhi, India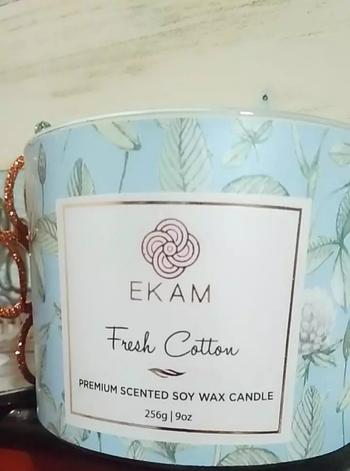 29/12/2021
Great powdery-floral fragrance.
Another 3-wick favorite from Ekam. Has such a good nostalgic fragrance (kinda similar to Boro plus), throw is also amazing. Just one concern, the color of the Wax changes to dull-grey after burning the first time itself and keeps getting darker.
Jay T.
Indore, Madhya Pradesh, India
08/12/2021
Awesome blossom
Ekam candles have the best fragrance. It's so different and soothing which makes your day lively. It rejuvenates us and gives a calm feeling. Loving it
Mohit S.
New Delhi, National Capital Territory of Delhi, India
11/11/2021
Ekom is the best !!!!!
I ordered Fresh Cotton three wick candle and the fragrance is so soothing
Anshita S.
Shimla, Himachal Pradesh, India
11/11/2021
3 wick candles
Tried out 3 wick candles for the 1st time. Great packing,great price and great stuff. Great for gifting too. Subtle and relaxing fragrance