Madurai Mogra Fragrance Oil, 50ml
Madurai Mogra Fragrance Oil, 50ml
This scent is the true definition of calm and comfort. Our Madurai Mogra fragrance oil is a lightly scented and exotic floral fragrance, identical to freshly picked Jasmine flowers. Its sweet floral aroma will calm you down and create a serene and relaxing ambience.
Top note: Fresh, Citrus, Herbal, Floral
Middle note: Floral, Jasmine, Powdery
Base note: Woody, Balsamic, Musky
What You Feel
Madurai Mogra will charm you with its mix of jasmine and other florals with a little herbal scent and a very light lingering musky scent. This is an invigorating fragrance reminding you of the flowers used in worship.
Specifications
Quantity: 50ml
Gross Weight: 120gms
MRP (Incl. of all taxes): ₹700

Mfg. date: Jan-2021

Best before: 24 months

Contains: 1 N of fragrance oil
Country of Origin: India
Manufactured by: La Scenteur Fragrance Technologies Pvt. Ltd., Baikampady Industrial Area, Mangaluru, Karnataka - 575011
Marketed by: Aromee Brands Pvt. Ltd., 3rd Floor, 401, Sairam Central Mall, Syndicate Circle, Anantha Nagar 1st Stage, Manipal, Udupi, Karnataka - 576104
* Please note these are diffuser fragrance oils and cannot be used on the skin
Remove the shade from the jar. Light the candle and place the shade back on.
The first time you use the candle, burn for at least 4 hours. Till a small pool is formed. Prevents uneven burn, tongue flick, tunneling, spillage etc.
From second usage onwards, trim the wick a little before you light the candle. A pair of scissors will do. Prevents wick folding on itself, flame dying out, mushrooming etc.
Do not light candle where there is air blowing, or near combustibles.
Reuse the glass jars with our votive refill candles.
Aromee Brands Pvt. Ltd.
D.No: 6-234/2, Second Floor, Plot No: 7D, Baikampady Industrial Area, Mangalore, Karnataka – 575011
Phone: 08046809555
(Timings: 9:00 AM to 5:30 PM | Mon – Sat, excluding national/ public holidays)
E-mail: cs@ekamonline.com
Customer Reviews
100
reviewers would recommend this product
Write a Review
Ask a Question
25/10/2022
I recommend this product
Madurai Mogra Fragrance Oil
Its is very soothing feeling well. Good product.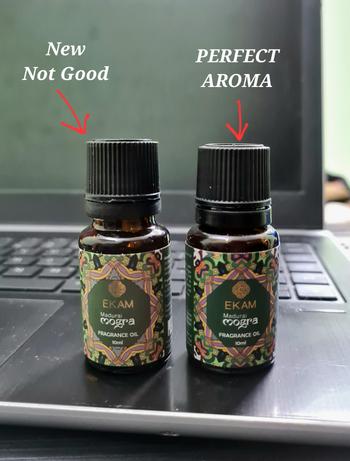 28/02/2022
POOR PRODUCTION || A vast difference in older and newer version
I ordered 3 items recently, 1 Noir fragrance, from manhood series, not good, let me know if i can return it. And 2 Madurai Mogra 10ml bottles, i had 1 bottle from my earlier purchase, and it was the best fragrances i ever had came across, perfect, because of which i ordered 2 more now, but these 2 bottles have the same name, but the fragrances are not at all similar, its 70% smells like the Divine temple fragrance, and doesn't stand out at all, just same as the other fragrance out there, i was so happy when first time smelled at the mogra, but this time it didn't have that aroma. I don't know what happened, whether the maker is changed or whatever, but the new versions of Mogra smells totally different and not appealing, also i can see the difference on the visuals on the bottle, so definitely something is off, and its not good at all. I'll rate it 5/10 this time. As this is the second time happening, cuz i had to replace the 50ml bottle of mogra for the same reason and ordered two 10ml bottle now, but it is totally changed now. Please let me know if i can get the older fragrance again, i am seriously craving for it, but the Mogra fragrance has completely changed now, its a usual flower smell. Attaching an image, if it rings a bell. Please put it to a thourough test, i highly request.
Jai S.
New Delhi, National Capital Territory of Delhi, India