Twilight Sky Chunk Jar
Twilight Sky is a rich fragrance with floral, oriental, and green notes. It uses sandalwood and vanilla in its base notes which gives off a creamy aroma. Use our Twilight Sky Cookie Jar Scented Candle to indulge in luxurious yet cozy vibes. Perfect for reading.
Top note: Citrus, Spicy, Green
Middle note: Oriental, Fancy, Floral
Base note: Woody, Vanilla, Sandal
EKAM's Chunk Jar Scented Candles look like jars of dessert, with chunks of coloured wax suspended in larger white wax background. They add a delightful touch and great aroma to home décor, wedding décor, party décor, table décor and as event giveaways, party giveaways or as part of gift hampers for Holi gifting, corporate gifting, and other festival giftings.
Poured in our factory in Mangalore, India, our Chunk Jar Scented Candles are made from premium quality wax and lead-free wick, having a burn time of 35 hours each.
Net weight: 256 g
Gross weight: 608 g
Burn time: 35 h
Dimension: 11 x 8.5 cm
MRP (Incl. of all taxes): ₹700
Mfg. date: Jan-2021
Best before: 24 months
Contains: 1 N of scented candle
Country of Origin: India
Manufactured by: Primacy Industries Ltd., Baikampady Industrial Area, Mangalore, Karnataka - 575011
Marketed by: Aromee Brands Pvt. Ltd., 3rd Floor, 401, Sairam Central Mall, Syndicate Circle, Anantha Nagar 1st Stage, Manipal, Udupi, Karnataka – 576104
Remove the lid from the jar before lighting the candle. Do not place the lid on the jar while the candle is burning.
The first time you use the candle, burn for at least 3-4 hours. Till a small pool of wax reaches the candle edges. Prevents uneven burn, tongue flick, tunneling, spillage etc.
From second usage onwards, trim the wick a little before you light the candle. A pair of scissors will do. Prevents wick folding on itself, flame dying out, mushrooming etc.
Do not light candle where there is air blowing, or near combustibles.
Aromee Brands Pvt. Ltd.
D.No: 6-234/2, Second Floor, Plot No: 7D, Baikampady Industrial Area, Mangalore, Karnataka – 575011
Phone: +91-8867915084 / +91-6366226493
(Timings: 9:00 AM to 5:30 PM | Mon – Sat, excluding national/ public holidays)
E-mail: cs@ekamonline.com
WHAT WE SWEAR BY
100% lead-free wicks, imported from Germany & the US
Fragrances conform to IFRA (International Fragrance Association) standards
All Candles adhere to International ASTM (American Society for Testing and Materials) Quality Standards
Each candle uses paraffin & vegetable-based waxes of the highest quality
Colours used are UV protected, imported from Germany
Customer Reviews
Write a Review
Ask a Question
11/05/2022
I recommend this product
Soothing
Very soothing fragrance. used it while doing meditation and reading.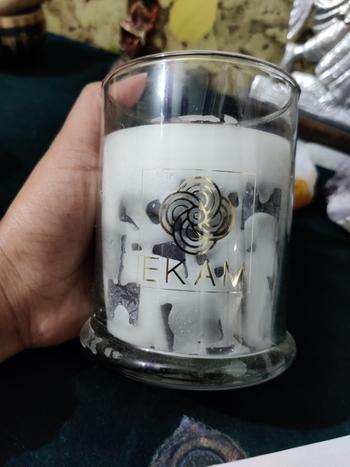 14/04/2022
It's just wow.
Great quality and quantity both.soothing and mentally peacefully.
Meenal K.
Araghar, Uttarakhand, India
11/04/2022
Awesome product!!
This is the second jar of twilight sky chunk jar..the first one I bought it was for me,loved it so much, bought again to give it to my sister this time..will purchase more in future
NEHA S.
Kolkata, West Bengal, India
09/04/2022
Awesome fragrance products
I love aroma candle jar first time purchase lovely fragrance very good feeling and happy
Avlok P.
Roorkee, Uttarakhand, India
23/03/2022
Great product
Beautiful jar came nicely packed... fragrance Is lovely.. worth buying
rishu k.
Shimla, Himachal Pradesh, India
27/12/2021
The smell that feels like home
I love the scent it reminds me of the night sky and its scent feels like home
Sadhana S.
Chennai, Tamil Nadu, India
18/11/2021
Fragrance is Amazinggg
It was my first aroma candle purchase. I was bit skeptical but then the moment I opened the lid ,I knew I made the right choice of buying it. The fragrance is soo soothing and loved it. Thank you Ekam.
Hema L.
Hyderabad, Telangana, India
28/10/2021
Aromatic and relieving
The candles purchased from Ekam was one of my best decisions as I was looking for something to suit my pocket and senses. They are good looking and good smelling. Lovely! Keep up the great work team!
Ginni K.
Chandigarh, Chandigarh, India