Tropical Paradise Body Mist, 135ml
Tropical Paradise is crafted with fragrances that will take you on a trip. It conjures images of surfboards and suntans via a sparkling blend of citrus, floral jasmine, green apple, and sweet notes. The smell of lemons and the water is in the air, your path lined with fruits and flowers on every side.
Top note: Fresh, Citrus
Middle note: Balsamic, Floral Jasmine, Green Apple, Fruity
Base note: Sweet, Caramellic
EKAM's crowd-favourite body mists are the best fragrances for personal care and gifting. They are feminine fragrances that are great to be worn on summer days, fresh out of showers, after workouts and sports, and just about any occasion and time of the day. Pamper yourself with our pocket-friendly versions of perfumes.
Blended in our factory in Mangalore, India, our body mists are made free of parabens, are BIS certified for raw materials and are in accordance with Drugs & Cosmetics Laws.
Net volume: 135 ml
Gross weight: 300 g
Dimension: 7.5 x 6 cm
MRP (Incl. of all taxes): ₹350
Mfg. date: Mar-2021
Best before: 36 months
Contains: 1 N of body mist
Country of Origin: India
Ingredients: Ethyl alcohol (75% w/w, Denatured with 1% w/w Diethyl Phthalate), Perfume, DM water, Propylene Glycol, Methanol ester of hydrogenated rasin and 2- Hydroxy 4-Methaxybenzophenone.
Manufactured by: Primacy Industries Ltd., Baikampady Industrial Area, Mangalore, Karnataka - 575011
Marketed & Packed by: AROMEE BRANDS PVT. LTD., 3rd Floor, 401, Sairam Central Mall, Syndicate Circle, Anantha Nagar 1st Stage, Manipal, Udupi, Karnataka - 576104
Store in cool, dry place, away from direct sunlight for maximum shelf-life.
Apply on damp skin and layer with moisturizer for maximum effect.
Be careful not to get spray in your eyes.
Aromee Brands Pvt. Ltd.
D.No: 6-234/2, Second Floor, Plot No: 7D, Baikampady Industrial Area, Mangalore, Karnataka – 575011
Phone: +91-8867915084 / +91-6366226493
(Timings: 9:00 AM to 5:30 PM | Mon – Sat, excluding national/ public holidays)
E-mail: cs@ekamonline.com
What we swear by
Customer Reviews
Write a Review
Ask a Question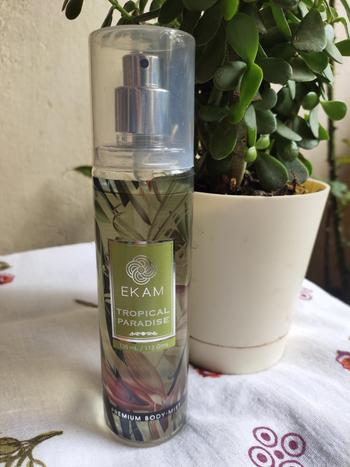 05/04/2022
Smells paradise
Just as it's name Paradise Love this fragrance, I used since the day got it either day or night even when I am going to bed. I always love to smell good even in bedtime. My mom also like it. Now all I want to try others too. Soon I'll be buy all
Arundhati s.
Bhubaneswar, Odisha, India
24/02/2022
The body mist i craved for
tried other brands too, but this is something different , the fragrance makes me happy
Megha J.
Kolkata, West Bengal, India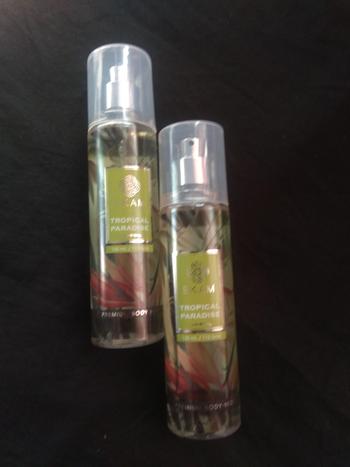 31/01/2022
The best of all the variants
The fragrance doesn't last quite long but, thats how body mists work! & tbh this was the best amongst all variants I loved it. So good that I got 2 bottles of it reading the other reviews.
Chandra L.
Bengaluru, Karnataka, India
16/12/2021
Perfect for daily usage
I'd like to use it everyday since it's so good
ftp
Delhi, National Capital Territory of Delhi, India
21/11/2021
Review
It has very light and soothing smell.
Shruti S.
Lucknow, Uttar Pradesh, India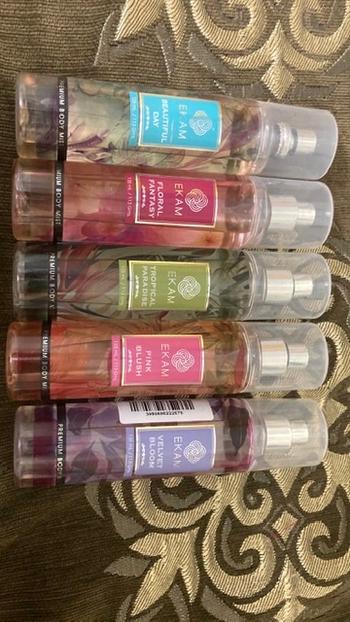 15/11/2021
Review
Got all 5 at 30% off and tropical mist is best of all
Fayeza
Ahmedabad, Gujarat, India
13/11/2021
Super product for all seasons
I just loved the fragrance and surprisingly its long lasting too.
nidhi m.
Delhi, National Capital Territory of Delhi, India