Temple Bloom Shot Glass Scented Candle
Our best selling aroma candle, Temple Bloom invokes memories of childhood visits to the holy inner sanctums of temples. With its blend of ingredients like eucalyptus, basil, jasmine, this is spot-on for lighting during prayer sessions.
You will see that almost all the ingredients have associations with holiness/purity and are commonly used in rituals. So, use this to enhance prayers and contemplation. A fragrance that invokes nostalgia and soothes and relaxes, a must-have from our portfolio.
Top notes: Green, Mint, Eucalyptus
Middle notes: Floral, Jasmine, Coconut, Banana, Basil
Bottom notes: Woody, Musky, Camphoraceous
EKAM's bestseller shot glass scented candles are the best aroma candles and fragrance candles for home decoration, wedding decoration, party decoration, table decoration and as wedding giveaways, party giveaways or as part of gift hampers for Diwali gifting, corporate gifting and another festival gifting.
Poured in our factory in Mangalore, India, our Shot Glass candle is made from premium quality wax and lead-free wick, it has a burn time of 10 hours
Net weight: 40 g
Gross weight: 117 g
Burn time: 10 h
Dimension: 5.2 x 6 cm
MRP (Incl. of all taxes): ₹99
Mfg. date: Feb-2022
Best before: 24 months
Contains: 1 N of scented candle
Country of Origin: India
Manufactured by: Primacy Industries Ltd., Baikampady Industrial Area, Mangalore, Karnataka - 575011
Marketed by: Aromee Brands Pvt. Ltd., 3rd Floor, 401, Sairam Central Mall, Syndicate Circle, Anantha Nagar 1st Stage, Manipal, Udupi, Karnataka – 576104
The first time you use the candle, burn for at least 2-3 hours. Till a small pool is formed. This will prevent uneven burn, tongue flick, tunneling, spillage etc.
From second usage onwards, trim the wick a little before you light the candle. A pair of scissors will do. This will prevent wick folding on itself, flame dying out, mushrooming etc.
Do not light candle where there is air blowing, or near combustibles.
Reuse the glass jars with our votive refill candles..
Aromee Brands Pvt. Ltd.
D.No: 6-234/2, Second Floor, Plot No: 7D, Baikampady Industrial Area, Mangalore, Karnataka – 575011
Phone: +91-8867915084 / +91-6366226493
(Timings: 9:00 AM to 5:30 PM | Mon – Sat, excluding national/ public holidays)
E-mail: cs@ekamonline.com
WHAT WE SWEAR BY
100% lead-free wicks, imported from Germany & the US
Fragrances conform to IFRA (International Fragrance Association) standards
All Candles adhere to International ASTM (American Society for Testing and Materials) Quality Standards
Each candle uses paraffin & vegetable-based waxes of the highest quality
Colours used are UV protected, imported from Germany
Customer Reviews
Write a Review
Ask a Question
14/03/2022
Temple Vibes
Have a great vibe in your space as if you are in a temple....Just light it and feel...
S.B.
Bhubaneswar, Odisha, India
12/03/2022
Super fregance
Amazing fregance thank you EKAM ♥️
Ashwini S.
Bengaluru, Karnataka, India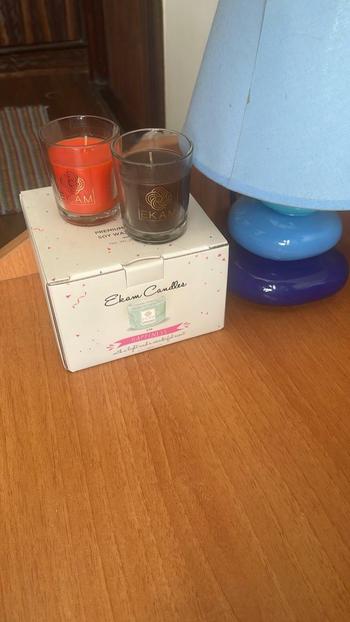 07/03/2022
Took me back home!
I got the Temple bloom small one for trial and by Jove I am going to buy the jar soon. It is so soothing especially. I mainly use it during meditation and the lovely fragrance of it took me back to my memories as a child visiting temples in Kerala.. Good work guys.. this one hits all the right notes.
Darshana
Bengaluru, Karnataka, India
04/03/2022
Temple memories rekindled
Ultimate bliss and soulful experience as this truly rekindled memories of visiting temples and brings a serene calmness for my chaotic mornings
Mytri K.
Puducherry, Union Territory of Puducherry, India