Temple Bloom Cookie Jar
DELIVERED BETWEEN 5-7 BUSINESS DAYS
Temple Bloom invokes memories of childhood visits to temples. With its blend of notes like eucalyptus, basil, jasmine, this is spot-on for lighting during prayers. You will see that almost all the ingredients have associations with holiness and are commonly used in rituals. A fragrance that invokes nostalgia and soothes, this is a must-have from our portfolio.
Top notes: Green, Mint, Eucalyptus
Middle notes: Floral, Jasmine, Coconut, Banana, Basil
Bottom notes: Woody, Musky, Camphoraceous
EKAM's Cookie Jar Scented Candles can make any space look pretty. Their cute design makes them great as birthday gifts, décor pieces at tea-parties, lawn parties, on snack-tables, atop vanities etc. They are also a great addition to gift hampers, as pick-me-up gifts, topped off with candies, cards etc. Reuse the glass jars to store precious little trinkets, fragrant spices, or potpourri.
Poured in our factory in Mangalore, India, our adorable Cookie Jar Scented Candles are made from premium quality wax and lead-free wick, having a burn time of 18 hours each.
Net weight: 85 grams
Gross weight: 232 grams
Burn Time: 18 hours
Dimension: 9.8 x 5.8 cms
MRP

(Incl. of all taxes)

: ₹300

Mfg. date: Jan-2021

Best before: 24 months

Contains: 1 N of scented candle
Manufactured by: Primacy Industries Ltd., Baikampady Industrial Area, Mangalore, Karnataka - 575011
Marketed by: Aromee Brands Pvt. Ltd., 3rd Floor, 401, Sairam Central Mall, Syndicate Circle, Anantha Nagar 1st Stage, Manipal, Udupi, Karnataka – 576104
Remove the lid from the jar before lighting the candle. Do not place the lid on the jar while the candle is burning.
The first time you use the candle, burn for at least 1-2 hours. Till a small pool is formed. Prevents uneven burn, tongue flick, tunneling, spillage etc.
From second usage onwards, trim the wick a little before you light the candle. A pair of scissors will do. Prevents wick folding on itself, flame dying out, mushrooming etc.
Do not light candle where there is air blowing, or near combustibles.
Aromee Brands Pvt. Ltd.
D.No: 6-234/2, Second Floor, Plot No: 7D, Baikampady Industrial Area, Mangalore, Karnataka – 575011
Phone: +91-8867915084 / +91-6366226493
(Timings: 9:00 AM to 5:30 PM | Mon – Sat, excluding national/ public holidays)
E-mail: cs@ekamonline.com
WHAT WE SWEAR BY
100% lead-free wicks, imported from Germany & the US
Fragrances conform to IFRA (International Fragrance Association) standards
All Candles adhere to International ASTM (American Society for Testing and Materials) Quality Standards
Each candle uses paraffin & vegetable-based waxes of the highest quality
Explain a set of product features, add illustrations, infographics, logo lists, or link to pages.
Customer Reviews
Write a Review
Ask a Question
26/02/2022
Smells perfectly like a temple
Reshmi
Bengaluru, Karnataka, India
11/01/2022
Temple Blooming!
This Temple Bloom Candle is a nice candle for temple and worship areas. This enlightned my day!
Avnish T.
Bengaluru, Karnataka, India
30/11/2021
Great Scent
Awesome product
Shubhangi S.
Hanumangarh, Rajasthan, India
30/11/2021
Amazing fragrance and jar
This candle smells like all your good memories packed into a small jar. I had asked all my friends to smell it and everyone named their most happy childhood memory. It is so brilliant and great for meditation. I'd buy this one again and have already recommended it to my friends and family. It is long lasting and the jar is really sturdy.
Maithri
Gandhinagar, Gujarat, India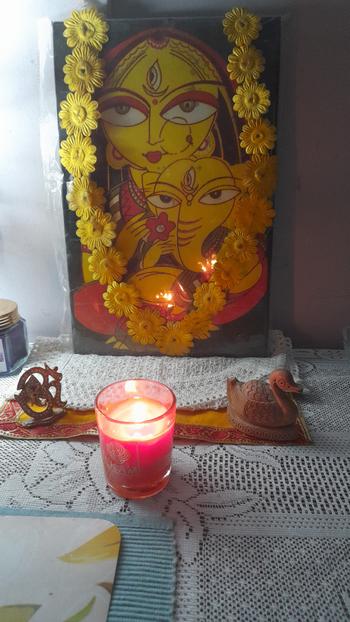 23/11/2021
Superb feeling
Temple Bloom.. one of my most favourites now.. It's a must have for getting the feel of being inside a temple.. drives the soul into the spirit of meditation
Pushpita M.
Kolkata, West Bengal, India