Leo Zodiac Scented Candle, Basil & Rosemary
DELIVERED BETWEEN 5-7 BUSINESS DAYS
Our Leo Scented Candles heavily feature the scents of basil and rosemary. The blend for this zodiac sign is a mixture of very herbal, spicy-citrusy notes paired with intense notes of lavender. The resulting fragrance is very raw, yet, comforting. This speaks to the balance needed for the Leo signs- who may be too compassionate and down-to-earth but also very quick to get angry.
Top notes: Green, Citrus, Lime
Middle notes: Lavender, Herbal
Base notes: Spicy
EKAM's Zodiac Scented Candles offer fragrances that are simply out of this world and truly unique. We have picked scents to match the traits of each zodiac sign, to create a fragrance that will speak to your heart and soul. They make unique and thoughtful gifts for friends, partners, family, and colleagues. Pick up your sign & see what the fragrance tells you.
Poured in our factory in Mangalore, India, our Zodiac Scented Candles are made from premium quality wax and lead-free wick, having a burn time of 30 hours each.
Net weight: 199 g
Gross weight: 476 g
Burn time: 30 h
Dimension: 9.5 x 8 cm
MRP (Incl. of all taxes): ₹850
Mfg. date: Jan-2021
Best before: 24 months
Contains: 1 N of scented candle
Country of Origin: India
Manufactured by: Primacy Industries Ltd., Baikampady Industrial Area, Mangalore, Karnataka - 575011
Marketed by: Aromee Brands Pvt. Ltd., 3rd Floor, 401, Sairam Central Mall, Syndicate Circle, Anantha Nagar 1st Stage, Manipal, Udupi, Karnataka – 576104
The first time you use the candle, burn for at least 2-3 hours. Till a small pool of wax reaches the candle edges. Prevents uneven burn, tongue flick, tunneling, spillage etc.
From second usage onwards, trim the wick a little before you light the candle. A pair of scissors will do. Prevents wick folding on itself, flame dying out, mushrooming etc.
Do not light candle where there is air blowing, or near combustibles.
Aromee Brands Pvt. Ltd.
D.No: 6-234/2, Second Floor, Plot No: 7D, Baikampady Industrial Area, Mangalore, Karnataka – 575011
Phone: +91-8867915084 / +91-6366226493
(Timings: 9:00 AM to 5:30 PM | Mon – Sat, excluding national/ public holidays)
E-mail: cs@ekamonline.com
WHAT WE SWEAR BY
100% lead-free wicks, imported from Germany & the US
Fragrances conform to IFRA (International Fragrance Association) standards
All Candles adhere to International ASTM (American Society for Testing and Materials) Quality Standards
Each candle uses paraffin & vegetable-based waxes of the highest quality
Colours used are UV protected, imported from Germany
Customer Reviews
Write a Review
Ask a Question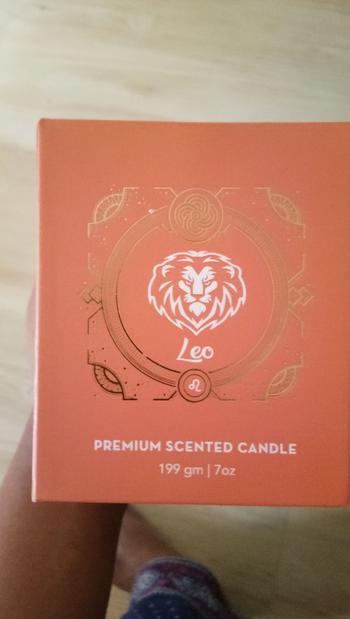 03/10/2021
Self gifting
I got this candle for me.... We always need to pritioise ourselves.. The basil flavour and the rosemary flavour is awesome...i loved it in totality. I feel very refreshed with this combination and its perfect and peronalised gift for self and others
Maria J.
Bengaluru, Karnataka, India
29/09/2021
nice product from ekam
love this series of zodiac candles, very fine aroma, love the fragrance . quality is so good.
shipra
New Delhi, National Capital Territory of Delhi, India
03/08/2021
PV
Bengaluru, Karnataka, India
01/09/2020
Pleasant fragrance
Great product. The packaging was fantastic and the aroma Of the candles is soothing and refreshing
Manisha G.
New Delhi, National Capital Territory of Delhi, India
01/08/2021
Good buy
The candle is very aesthetic and pretty, perfect for a Leo. The fragrance depends from person to person, this was a new scent for me and I feel I have had better ekam candle scents before.
Tanya D.
Thane, Maharashtra, India