Frosted Pine Hobnail Jar Scented Candle
Our scented candles in Hobnail Jars are made to exude a sense of antique luxury. The glasses are patterned to remind you of frosty dew-droplets that will instantly transport you to Christmas mornings.
Fragrance
Refreshing and light, Frosted Pine is translucent and easy on the eyes. The perfect piece for adding a splash of comfort.
A play of fresh, herbal, grassy scents along with a very woody base.
Top note: Green, Pine, Camphoraceous, Citrus, Eucalyptus, Mint
Middle note: Pine, Cedarwood, Patchouli
Bottom note: Balsamic, Thyme, Woody, Cedar, Mossy, Musk
What You Feel
Like you're surrounded by thick foliage in a dense forest. You don't feel cold, because you can smell some wood being burnt and some soft incense.
Specification
Net weight: 170 grams
Gross weight: 536 grams
Dimension: 8.9 x 7.3 cms
Burn time: 30 hours
MRP (Incl. of all taxes): ₹795
Contains: 1 N of Scented Candle
Country of Origin: India
Manufactured by: Primacy Industries Ltd., Baikampady Industrial Area, Mangalore, Karnataka - 575011
Marketed by: Aromee Brands Pvt. Ltd., 3rd Floor, 401, Sairam Central Mall, Syndicate Circle, Anantha Nagar 1st Stage, Manipal, Udupi, Karnataka - 576104
Customer Reviews
Write a Review
Ask a Question
14/01/2022
My most favourite candle from ekam
Guys please keep this scent all year round. Its greatly refreshing in tbe hot weather months and will cool us down with its minty snowy pine smell. Request. Thanks
Minoshka D.
Mumbai, Maharashtra, India
04/01/2022
Frosted Mine in love with this
First of all ..all of these Hobnail jar candles look so gorgeous indeed and secondly they smells just wow❤️❤️❤️Made our Christmas soooo special...Kudos to team Ekam for bringing this fragrance to our lives ❤️ Perfect
Smita T.
Bengaluru, Karnataka, India
18/12/2021
ONE OF MY FAVOURITES
This scent I'm gonna use even after Christmas
Aditi
Noida, Uttar Pradesh, India
17/12/2021
In love
These candles are my holy grail. And they live up to their names. These are incredible.
Aditi
Noida, Uttar Pradesh, India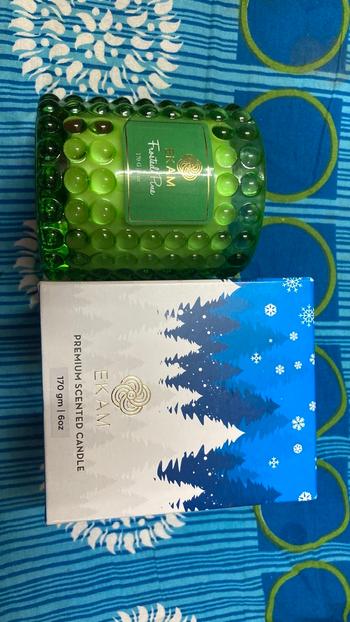 28/11/2021
Review
Green n earthy Fougere fragnance, must buy for winters
26/11/2021
Loved it!
Reminds me the smell of Christmas trees :)
Shibhani
Bengaluru, Karnataka, India