Frosted Pine Crackled Jar Scented Candle
Our scented candles in Crackle Cup designs will add a touch of retro luxury to your spaces. You can almost hear and feel the satisfying scrunching of bright, colourful wrapping paper. The scents promise to be just as gratifying.
Frosted Pine is soft and luxurious in its shade of green. Don't be surprised if you catch your reflection off its shimmering surface.
Fragrance
A play of fresh, herbal, grassy scents along with a very woody base.
Top note: Green, Pine, Camphoraceous, Citrus, Eucalyptus, Mint
Middle note: Pine, Cedarwood, Patchouli
Bottom note: Balsamic, Thyme, Woody, Cedar, Mossy, Musk
What You Feel
Like you're surrounded by thick foliage in a dense forest. You don't feel cold, because you can smell some wood being burnt and some soft incense.
Specification
Net weight: 289 grams
Gross weight: 626 grams
Dimension: 10 x 9 cms
Burn time: 35 hours
MRP (Incl. of all taxes): ₹1115
Contains: 1 N of Scented Candle
Country of Origin: India
Manufactured by: Primacy Industries Ltd., Baikampady Industrial Area, Mangalore, Karnataka - 575011
Marketed by: Aromee Brands Pvt. Ltd., 3rd Floor, 401, Sairam Central Mall, Syndicate Circle, Anantha Nagar 1st Stage, Manipal, Udupi, Karnataka - 576104
Customer Reviews
Write a Review
Ask a Question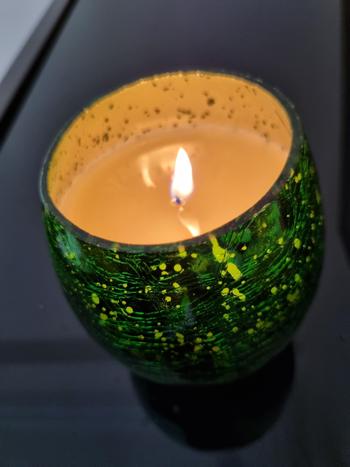 18/01/2022
Must have winter scent
This candle is my absolute favorite. The scent makes you think of winter, snow, dew, forests. Beautiful candle, excellent scent, really good throw and clean even burn. I just wish this candle was on sale now!
08/01/2022
No words......JUST LOVE IT
LOVE LOVELOVEIT
Smita T.
Bengaluru, Karnataka, India
07/01/2022
Frosted Pine or Be Mine
Oh I am so much in love with Ekam's Crackled kar candles ....bought the Candy apple Crackled jar and Frosted Pine Hobnail Jars during Christmas time and instantly fell in love with these two amazing festive fragrances.....wanted to stick them up again so this time bought Frosted Pine Crackled Jar and Candy apple in Hobnail ...will buy these two fragrances again n again ...This time got lucky to find these two on New year's special 50% discount.Thank you Ekam ❤️Keep growing... spreading love n light
Smita T.
Bengaluru, Karnataka, India
08/12/2021
Frosted Pine Crackled Jar Scented Candle
Kajari M.
Kolkata, West Bengal, India