Candy Apple Crackled Jar Scented Candle
Our scented candles in Crackle Cup designs will add a touch of retro luxury to your spaces. You can almost hear and feel the satisfying scrunching of bright, colourful wrapping paper. The scents promise to be just as gratifying.
Fragrance
Candy Apple is intense and bright in a sheer red that is all too irresistible. Your guests will immediately perk up at it.
A blend of sweet spices and fresh apple scents to give your home a crisp, clean fragrance.
Top note: Green, Spicy, Citrus, Apple
Middle note: Fruity, Peach, Mango, Floral, Jasmine
Bottom note: Sweet, Musk, Cherry
What You Feel
Like you're surrounded by cocktails made from crispy apples plucked straight from the garden and mixed in with mild spices. What sets it apart is the hints of Jasmine & Mango, making for an Indian Christmas.
Specification
Net weight: 289 grams
Gross weight: 626 grams
Dimension: 10 x 9 cms
Burn time: 35 hours
MRP (Incl. of all taxes): ₹1115
Contains: 1 N of Scented Candle
Country of Origin: India
Manufactured by: Primacy Industries Ltd., Baikampady Industrial Area, Mangalore, Karnataka - 575011
Marketed by: Aromee Brands Pvt. Ltd., 3rd Floor, 401, Sairam Central Mall, Syndicate Circle, Anantha Nagar 1st Stage, Manipal, Udupi, Karnataka - 576104
Customer Reviews
Write a Review
Ask a Question
25/12/2021
My FAV FRAGRANCE❤️❤️❤️
Can't express how beautiful is this
Smita T.
Bengaluru, Karnataka, India
25/12/2021
JUST LOVE IT ❣️❣️❣️❣️❣️❣️
Thank you Ekam ...my favourite from the holiday collection...can smell whole day long ❤️❤️
Smita T.
Bengaluru, Karnataka, India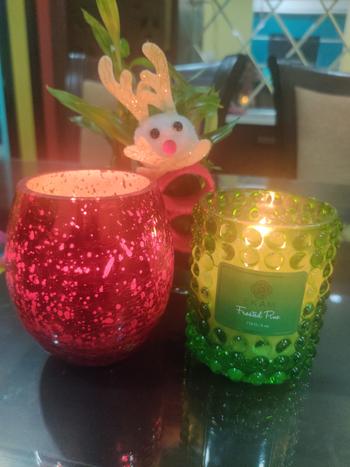 25/12/2021
Made our Christmas so special ❤️❤️
Love ❣️ Love Love ❤️ these....smells sooooooo lovely...thank you so much EKAM ❤️
Smita T.
Bengaluru, Karnataka, India
26/11/2021
Fragrance and packaging is great, worth buying.
Anitha
Bengaluru, Karnataka, India