We are currently facing a technical glitch in our loyalty program. Customers are requested to get in touch with customer care on Monday between office hours 9:30am to 6pm
Throat Chakra Diffuser Essential Oil Blend, Chakra Series
Throat Chakra Diffuser Essential Oil Blend, Chakra Series
The Throat Chakra is located at the throat area, near the spine. When blocked, you may struggle to say what you really mean, feel like people don't really care to listen to you etc. Physically, you may experience issues like neck pain, hormone imbalance, throat pain etc.
Fragrance Notes: Peppermint, Cypress, Roman Chamomile, Rosemary, Blue Tansy
Peppermint - Promotes insight into truth and dispels pride.
Cypress - Promotes confidence in your voice and opinion.
Roman Chamomile - Supports listening to others and calm and gentle speaking.
Rosemary - Promotes mental clarity and helps transform your thoughts into words.
Blue Tansy - Calms the mind. Promotes emotional stability, flexibility, and renewal
EKAM's blend of cypress, rosemary, peppermint etc can help unblock the Throat Chakra and help you speak your mind clearly and regain confidence. The fragrance is fresh, woody, and slightly floral. For maximum benefit, use the blend during Matsyasna (Fish) pose.
EKAM's Chakra Series aromatherapy oils are blended to help give you an easy and enjoyable way to balance your chakras and boost your yoga practice so that you can successfully combat the stress of modern-day life and lead a fulfilling and content life. When used regularly in combination with diet, yoga, and affirmations, you will see benefits related to your chakras.
Blended in our subsidiary factory in Mangalore, India, our aromatherapy oils are made from diligently sourced essential oils.
Net volume: 10 ml
MRP (Incl. of all taxes): ₹499
Mfg. date: Jan-2021
Best before: 24 months
Contains: 1 N of fragrance oil
Country of Origin: India
Manufactured by: La Scenteur Fragrance Technologies Pvt. Ltd., Baikampady Industrial Area, Mangaluru, Karnataka - 575011
Marketed by: Aromee Brands Pvt. Ltd., 3rd Floor, 401, Sairam Central Mall, Syndicate Circle, Anantha Nagar 1st Stage, Manipal, Udupi, Karnataka – 576104
Not for use on skin or as a substitute for medicines.
Best used with EKAM's Aroma Diffuser and Humidifier which keeps the molecular structure of the essential oils intact while diffusing the oils widely in the air.
Add 10-15 drops to the water of the bowl to diffuse fragrance.
Store in a cool, dry place away from direct sunlight.
Aromee Brands Pvt. Ltd.
D.No: 6-234/2, Second Floor, Plot No: 7D, Baikampady Industrial Area, Mangalore, Karnataka – 575011
Phone: 08046809555
(Timings: 9:00 AM to 5:30 PM | Mon – Sat, excluding national/ public holidays)
E-mail: cs@ekamonline.com
What we swear by
Customer Reviews
Write a Review
Ask a Question
27/05/2022
Divine
Lasting effect and strong fragrance
Akansha A.

India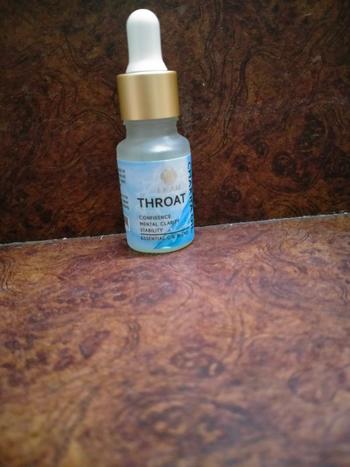 09/11/2021
Breathe in!
Minty, peppery...with the proven relaxation of Roman Camomile etc., this is an anti-cold/cough "breathe easy" blend which is a rare offering and absent in rival collections. My second favourite after Heart blend.
NS
Noida, Uttar Pradesh, India
19/09/2021
Throat Chakra Diffuser Essential Oil Blend, Chakra Series
Manish S.
Lucknow, Uttar Pradesh, India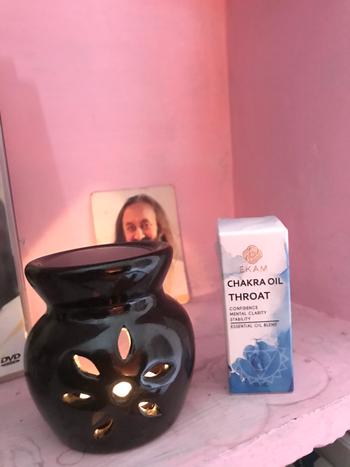 10/08/2021
Activate your throat chakra
I love the smell and blend of this oil. It soothes the throat chakra and provides peace and healing
28/07/2021
Why I love EKAM Chakra Series
Immensely good feel when a drop is used. Good research and good product. Highly recommended for healing purpose besides meditation sessions.
Dr S.
Mangalore, Karnataka, India
10/09/2021
Nice aroma and soothing feeling
Padmaja G.
Hyderabad, Telangana, India