We are currently facing a technical glitch in our loyalty program. Customers are requested to get in touch with customer care on Monday between office hours 9:30am to 6pm
Third Eye Chakra Diffuser Essential Oil Blend, Chakra Series
Third Eye Chakra Diffuser Essential Oil Blend, Chakra Series
The Third Eye Chakra is located at the centre of the forehead. When your Third Eye Chakra is blocked, you may struggle to find your path in life, have difficulty making decisions. Physically, you may have issues like headaches, eye discomfort, sinus pain etc.
Fragrance Notes: Ylang-Ylang, Lavender, Clary Sage, Pine, Frankincense Serrata
Ylang Ylang - Promotes intuition & willpower
Lavender – Relieves stress and tension
Clary Sage - Supports deep meditation
Pine- Helps strengthen your confidence
Frankincense Serrate – Helps connect to the Divine for a sense of connectedness
EKAM's blend of relaxing Ylang-ylang, Lavender, Clary Sage & Frankincense can help unblock the Third Eye Chakra and give you clarity of mind. The fragrance is mildly sweet and incense-like. For maximum benefit, use during Balasna (Child) pose or during prayer and meditation.
EKAM's Chakra Series aromatherapy oils are blended to help give you an easy and enjoyable way to balance your chakras and boost your yoga practice so that you can successfully combat the stress of modern-day life and lead a fulfilling and content life. When used regularly in combination with diet, yoga, and affirmations, you will see benefits related to your chakras.
Blended in our subsidiary factory in Mangalore, India, our aromatherapy oils are made from diligently sourced essential oils.
Net volume: 10 ml
MRP (Incl. of all taxes): ₹499
Mfg. date: Jan-2021
Best before: 24 months
Contains: 1 N of fragrance oil
Country of Origin: India
Manufactured by: La Scenteur Fragrance Technologies Pvt. Ltd., Baikampady Industrial Area, Mangaluru, Karnataka - 575011
Marketed by: Aromee Brands Pvt. Ltd., 3rd Floor, 401, Sairam Central Mall, Syndicate Circle, Anantha Nagar 1st Stage, Manipal, Udupi, Karnataka – 576104
Not for use on skin or as a substitute for medicines.
Best used with EKAM's Aroma Diffuser and Humidifier which keeps the molecular structure of the essential oils intact while diffusing the oils widely in the air.
Add 10-15 drops to the water of the bowl to diffuse fragrance.
Store in a cool, dry place away from direct sunlight.
Aromee Brands Pvt. Ltd.
D.No: 6-234/2, Second Floor, Plot No: 7D, Baikampady Industrial Area, Mangalore, Karnataka – 575011
Phone: 08046809555
(Timings: 9:00 AM to 5:30 PM | Mon – Sat, excluding national/ public holidays)
E-mail: cs@ekamonline.com
What we swear by
Customer Reviews
Write a Review
Ask a Question
25/04/2022
Third Eye Chakra Diffuser Essential Oil Blend
excellent
Rakesh C.

India
06/04/2022
Amazing product and excellent customer service
It is always a treat to receive packages from Ekam. Amazing product and excellent customer service. Beautifully prepared and carefully crafted. I will definitely recommend to Third Eye Chakra Diffuser Essential Oil Blend.
Rakesh S.
Bengaluru, Karnataka, India
19/08/2021
Helps in studies
Often during long hours of studies we tend too lose focus and then it's tough to grasp ideas and think clearly, I ordered this oil to calm my mind too think more clearly and it works, excellent product.
Saurabh S.
New Delhi, National Capital Territory of Delhi, India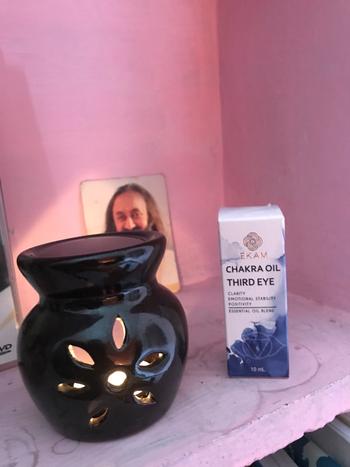 10/08/2021
Third eye healing
I love all ekam products. This third eye chakra smells nice and the blend really helps to activate your third eye and getting deeper into the practices
06/07/2021
Third eye chakra essential oil
Amazing oil ,has a very soothing aroma and lifted the ambience .
Kavita
Mumbai, Maharashtra, India
07/05/2021
Kanikaa B.
New Delhi, National Capital Territory of Delhi, India
25/12/2020
Good for meditation
It's having very great power of fragrance it's nice for yoga and meditation
Jagathi V.
Hyderabad, Telangana, India