Temple Bloom Room Freshener, 100ml
Temple Bloom Room Freshener, 100ml
DELIVERED BETWEEN 5-7 BUSINESS DAYS
Temple Bloom invokes the beautiful scents around temples. With its blend of notes like eucalyptus, basil, and jasmine, it is perfect for freshening up prayer spaces. Almost all the notes used are associated with sacred spaces and are commonly used in rituals. Combined with the sweet, creamy scent of coconut, the overall aroma is uniquely pleasant and nostalgic.
Top notes: Green, Mint, Eucalyptus
Middle notes: Floral, Jasmine, Coconut, Banana, Basil
Bottom notes: Woody, Musky, Camphoraceous
EKAM's Room Fresheners look classy and with a few sprays, convert your rooms and spaces into a paradise of fragrance. This is one of the fastest ways to spread fragrance and make rooms presentable and inviting.
Blended in our factory in Mangalore, India, our room sprays are made from premium quality ingredients and quality-tested to give the best aroma.
Net weight: 100 g
Gross weight: 300 g
Dimension: 7.5 x 6 cm
MRP (Incl. of all taxes): ₹499
Mfg. date: Jan-2021
Best before: 24 months
Contains: 1 N of room freshener spray
Country of Origin: India
Manufactured by: Primacy Industries Ltd., Baikampady Industrial Area, Mangalore, Karnataka - 575011
Marketed by: Aromee Brands Pvt. Ltd., 3rd Floor, 401, Sairam Central Mall, Syndicate Circle, Anantha Nagar 1st Stage, Manipal, Udupi, Karnataka – 576104
This is not for topical application.
When you spray it, make sure to hold it at a little distance from your eyes and nose.
Store in a cool, dry environment, away from direct sunlight.
Aromee Brands Pvt. Ltd.
D.No: 6-234/2, Second Floor, Plot No: 7D, Baikampady Industrial Area, Mangalore, Karnataka – 575011
Phone: 08046809555
(Timings: 9:00 AM to 5:30 PM | Mon – Sat, excluding national/ public holidays)
E-mail: cs@ekamonline.com
What we Swear By
Customer Reviews
Write a Review
Ask a Question
10/05/2022
I recommend this product
TEMPLE BLOOM ROOM FRESHNER
It's simply a Divine experience.I use it for my meditation and prayers..It helps to bring in the calmness and peace which one experiences at Temples.
18/01/2022
Smells Divine!! As the name says .. it feels like you are visiting a temple.. it very calming. Definitely recommend!
Sujata
Mumbai, Maharashtra, India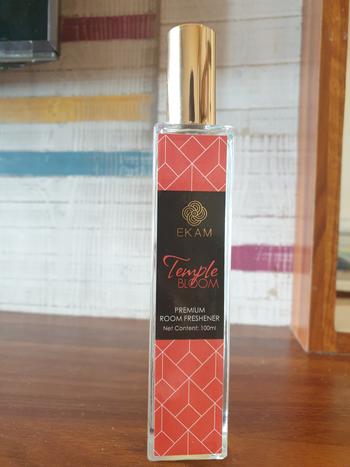 31/10/2021
Divine smell
Temple bloom really makes you feel in the temple..divine & serene smell has nostalgic effect..its one of my best buy.
Shrikant
Kalyan, Maharashtra, India
06/07/2021
Its delightful
Its so refreshing. A few sprays and you get floured with a long lasting very different soul enlightening fragrance. Very nice fragrance.
parikshit l.
Mumbai, Maharashtra, India
30/05/2021
Love the fragrances
Ekam team, Love your temple fragrance. Elevates the ambiance and It simply takes you to the temple premises. Highly recommend to everyone who is looking the fragrances.
29/11/2019
Ekam room spray
The most divine and authentic fragrance of Madurai Jasmine that lifts the ambience in any room.Truly beautiful
Emily C.
Bengaluru, Karnataka, India
14/06/2019
Temple Bloom Premium Room Freshener
ELUMALAI S.
Chennai, Tamil Nadu, India
20/10/2021
Temple Bloom Room Freshener, 100ml
(Pick any 2 & get 50% off!)
Neeraj S.
Delhi, National Capital Territory of Delhi, India