We are currently facing a technical glitch in our loyalty program. Customers are requested to get in touch with customer care on Monday between office hours 9:30am to 6pm
Heart Chakra Diffuser Essential Oil Blend, Chakra Series
Heart Chakra Diffuser Essential Oil Blend, Chakra Series
The fourth chakra- the Heart Chakra is located low in the chest and represents self-acceptance and love. When the Heart Chakra is blocked, you'll struggle to relate to other people. You may feel less compassionate and more impatient. Physically, this can lead to issues like insomnia, high blood pressure, weak immunity etc.
Fragrance notes: Geranium, Copaiba, Lime, Spearmint, Rose
Geranium - Brings feelings of worthiness and combats self-isolation.
Copaiba - Dispels feelings of shame, guilt, regret, and self-loathing.
Lime - Uplifts spirits and combats emotional fatigue. Helps calm an anxious heart.
Spearmint - Uplifts the mood and promotes positivity. Combats emotional strain and disconnection.
Rose - Promotes love and joy. Promotes comfort and restores trust in others.
EKAM's blend of nature's mood enhancers- Geranium, Copaiba, Lime, Spearmint, and Rose can help unblock the Heart Chakra & promote love and joy, helping you feel positive. The fragrance is a blend of heady fruity, rose-like fragrance with hints of spice and citrus. For maximum benefit, use the blend during Ustrasana (Camel) pose.
EKAM's Chakra Series aromatherapy oils are blended to help give you an easy and enjoyable way to balance your chakras and boost your yoga practice so that you can successfully combat the stress of modern-day life and lead a fulfilling and content life. When used regularly in combination with diet, yoga, and affirmations, you will see benefits related to your chakras.
Blended in our subsidiary factory in Mangalore, India, our aromatherapy oils are made from diligently sourced essential oils.
Net volume: 10 ml
MRP (Incl. of all taxes): ₹499
Mfg. date: Jan-2021
Best before: 24 months
Contains: 1 N of fragrance oil
Country of Origin: India
Manufactured by: La Scenteur Fragrance Technologies Pvt. Ltd., Baikampady Industrial Area, Mangaluru, Karnataka - 575011
Marketed by: Aromee Brands Pvt. Ltd., 3rd Floor, 401, Sairam Central Mall, Syndicate Circle, Anantha Nagar 1st Stage, Manipal, Udupi, Karnataka – 576104
Not for use on skin or as a substitute for medicines.
Best used with EKAM's Aroma Diffuser and Humidifier which keeps the molecular structure of the essential oils intact while diffusing the oils widely in the air.
Add 10-15 drops to the water of the bowl to diffuse fragrance.
Store in a cool, dry place away from direct sunlight.
Aromee Brands Pvt. Ltd.
D.No: 6-234/2, Second Floor, Plot No: 7D, Baikampady Industrial Area, Mangalore, Karnataka – 575011
Phone: 08046809555
(Timings: 9:00 AM to 5:30 PM | Mon – Sat, excluding national/ public holidays)
E-mail: cs@ekamonline.com
What we swear by
Customer Reviews
100
reviewers would recommend this product
Write a Review
Ask a Question
Filter Reviews:
Ekam
candles
purchase
services
thts
self love
camling
oil blends
stars
oils
07/11/2022
I recommend this product
Revitalizig fragrance
Fragrance is truly revitalizing and energizing. love the fragrance.
03/08/2022
Loving this
Very happy with my purchase of Ekam candles and oils. They smell great and last long. Each smell does what it claims.
Chhavi S.

India
27/05/2022
I recommend this product
Divine
Has a strong fragrance and has a lasting effect.
Akansha A.

India
01/10/2021
Relaxing and Peaceful mind
It is simply awesome...I was not sure about its fragrance and effect initially but so I had ordered just ekam Heart....it is simply awesome... relaxing.... soothing as if my room fill with fresh oxygen..my kids also luv it's fragrance....now i have ordered all the products od chakra series....they definitely work...we can feel...thanks ekam
07/09/2021
Ekam Heart
I diffuse it at night before sleep. I feel light and peaceful in the morning I loved the aroma very much. Warm regards Pournima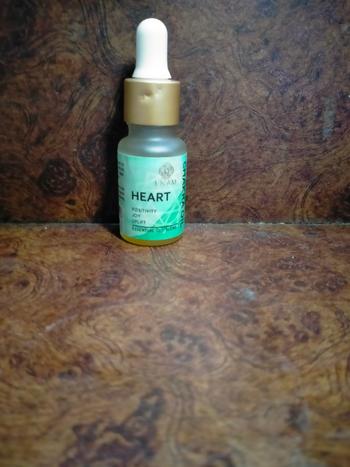 06/09/2021
Steals your !
Have tried all but two of the chakra series (looking forward to trying the remaining soon). Have liked heart chakra blend the most. These are priced the highest and this blend easily justifies the price. As always, start with a conservative quantity and adjust from there. Some may take time to like the fragrance but it will eventually win you over!
NS
Noida, Uttar Pradesh, India
15/08/2021
Healing Qualities
Very nice oil and it really heals heart chakra. I use it on clients while am healing their heart chakra.
Shonali S.
Bengaluru, Karnataka, India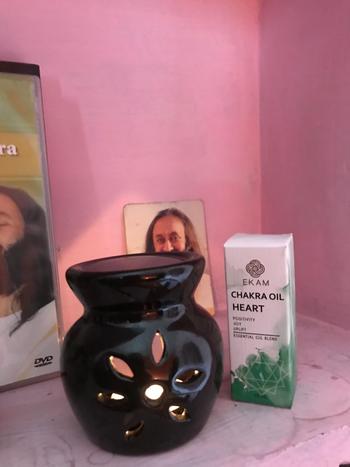 10/08/2021
Get the love going
The best blend I would love to choose time and again is heart chakras essential oil. It smells so good and positive while doing yoga, pranayama and meditation. I am so in love with it.